Home Financing 101
When Is a Good Time to Refinance Your Home?
6 min read

This article was last updated April 14, 2022.
When interest rates drop, your first instinct may be to refinance. At the beginning of March 2020, the average interest rate for a 30-year, fixed-rate mortgage hit its lowest level in 50 years at 3.29%, and many homeowners jumped at the opportunity to lock in a new, lower mortgage rate. But are interest rates still low? As of March 2022, rates are unfortunately on the rise again — the current average for a 30-year fixed mortgage is 4.51% . It has many homeowners wondering: is it a good time to refinance my home before rates get even higher?
To answer the question, you'll need to do some math. Most finance experts advise you to lock in a rate that's at least 0.5% lower than your current rate to make a refinance worth it. But refinancing isn't as straightforward as simply locking in a new, lower interest rate. You're taking on a new loan, and new loans come with closing costs. Expect to pay 2 to 5 percent of the loan's principal to refinance, with fees varying by state and lender. The general rule of thumb is you should be able to recoup closing costs within 18 months.
How to Know When to Refinance
To determine whether it's a good idea to refinance, you'll want to take into account all the variables of your situation. If you shorten your loan term, will you pay less interest in the long run? If you trade one 30-year mortgage for another, will you pay more interest in the long run? Can you afford the monthly payment? Can you switch from a potentially volatile variable interest rate to a fixed rate that helps you budget more effectively? Can you eliminate private mortgage insurance (PMI)? How long do you plan to stay in your home before selling? If you refinance your home before selling it shortly after, it may not be financially beneficial for you since you'll have to deal with closing costs.
As an example, let's say you bought a home in 2009 that's currently valued at $300,000. Your initial 30-year mortgage was for $275,000 at a 4.25% interest rate. That leaves $211,382 left to pay off at $1,495 per month (factor in more if you're paying PMI).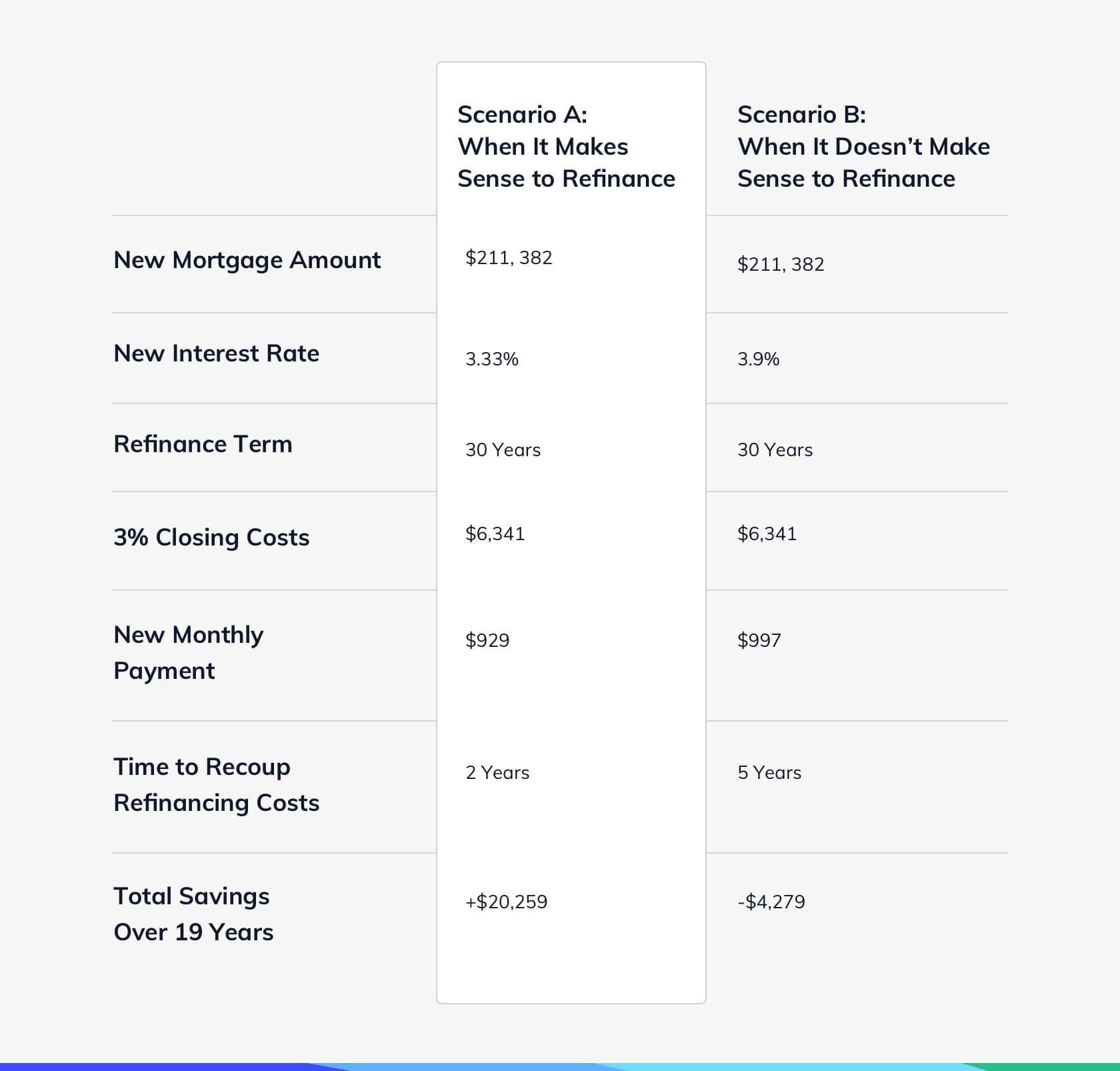 In scenario B, due to the length of the loan, you stand to pay more in interest. If you plan to move between years five and thirteen, you could save a few hundred dollars, but the hassle of refinancing is likely not worth the savings.
Opting for a 15-year loan over a 30-year loan in this scenario would increase your monthly payments to $1,553, but you could save nearly $12,000 over the lifetime of the loan, making it a slightly more attractive refinancing scenario. You'd recoup your refinancing costs around year three. Should You Refinance Your Home? 5 Key Areas to Evaluate
Of course, you'll also need to look at the specific qualification requirements to determine if you meet the criteria for a refinance. While they vary by lender, these generally include a minimum credit score of 620, a 50% debt-to-income (DTI) ratio, and at least 20% equity in your home. 
The SmartAsset Refinance Calculator is a great tool for homeowners to see when it may make sense to refinance their homes based on the home's current value and mortgage.
Your Alternatives to Refinancing
If the refinancing math doesn't make sense, or your credit score and loan-to-value ratio prevent you from qualifying for the best rates, you have other options.
With refinancing, you're taking out a new loan for the remaining value that you owe on your home, ideally reducing the amount you have to pay each month, the amount of time left to pay the loan, or both.
But with a cash-out refinance, you're taking out a new loan that's greater than the amount you owe on your home, giving you additional cash to cover other expenses you may have, such as credit card debt or paying for an education. Cash-Out Refinance vs. Home Equity Loan: What's the Difference?
But, if you don't want a larger loan and potentially even larger monthly payments, you also have non-loan options. Home equity investments allow you to access cash now in exchange for a share of the future value of your home. Since it's an investment, not a loan, a home equity investment doesn't have monthly payments or interest.
Home equity investments may make even more sense for homeowners looking to sell within the next decade, or before they can realize any savings from a refinance. A refinance can extend the lifetime of your loan. If you had 20 years left on your mortgage, and you refinance with a 30-year mortgage, you have 10 additional years of monthly payments and interest).
The best option for you will depend on a number of factors, including your home plans, credit score, and other variables. But it also depends on your other financial goals. What do you hope to do with your savings from a refinance? Do you need cash now to achieve another financial goal, such as pay off bad debt or start a business? Do the math, weigh all your options, and determine which scenario is best for you.
Take our 5-minute quiz to see if a home equity investment is a good fit for you.
You should know
We do our best to make sure that the information in this post is as accurate as possible as of the date it is published, but things change quickly sometimes. Hometap does not endorse or monitor any linked websites. Individual situations differ, so consult your own finance, tax or legal professional to determine what makes sense for you.
Hometap is made up of a collaborative team of underwriters, investment managers, financial analysts, and—most importantly—homeowners—in the home financing field that understand the challenges that come with owning a home.