Home Financing 101
Should You Refinance Your Home? 5 Key Areas to Evaluate
5 min read

Even if you haven't refinanced your home, you've likely heard the term. But what does it mean to take a cash-out refinance, and should you consider it?
There are five key areas to evaluate before you refinance your home. You'll want to weigh the possibilities of low interest rates and an improved loan period against some of the not-so-great aspects of refinancing: high closing costs, long application process, and additional debt.
What Is a Cash-Out Refinance?
A cash-out refinance is a financing option in which an old mortgage is replaced with a new mortgage at a different interest rate, one with a larger loan amount than what was previously owed. The difference is provided to the homeowner to use as they wish. 
In 2020, cash-out refinances surged in popularity as interest rates reached record lows and homeowners sought out options for accessing funds as a result of job losses from the coronavirus pandemic. In fact, Americans took out $152.7 billion in home equity in 2020 through refinancing — the highest amount since the financial crisis in 2007 and an increase of 42% year over year.
Pros and Cons of Refinancing
Like any home financing option, cash-out refinances come with advantages and disadvantages, so it comes down to making the best decision possible for you and your current situation. 
Lower Interest Rates
According to Investopedia, you should consider refinancing if you can reduce your current interest rate by 0.75–1% or more. Lowering your interest even a percent can help make your monthly payments more manageable.
If your credit score has significantly improved since you first signed your mortgage, you may also find you can lock in at a lower interest rate. The better your score, the better the rates you can unlock. Saving on interest can save you significant money over the course of your loan.
Improved Loan Period
According to The Fiscal Times, refinancing can bring new, cheaper loan periods. Combined with lower interest rates, a shorter loan length allows you to start paying the principal of your loan faster, saving you thousands of dollars in interest.
High Closing Costs
Despite the benefits above, there is a downside to refinancing. Refinance closing costs compare to the fees charged with a new mortgage, including loan origination fees and a home appraisal. These fees generally add up to 1–3% of the loan amount.
You'll want to determine how much you'll save each month, how much you'll owe in fees, and how long it will take you to save money versus how long you plan to stay in your home. Once you weigh all these factors, the savings may not be worth the hassle — or may be nonexistent (like in the case of Scenario B in the chart below).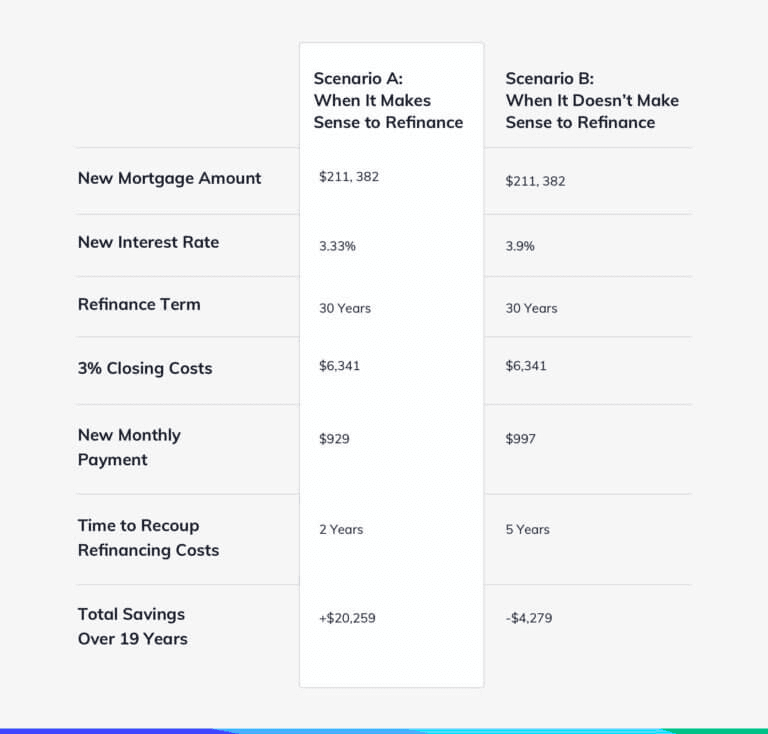 Long Application Process
Refinancing doesn't happen overnight. The average process from application through closing takes anywhere from 20 to 45 days. Much like getting your original mortgage, refinancing has time-consuming steps. Consider whether you have the time to devote to the process or if it makes sense to hold off.
Additional Debt
When you take a cash-out refinance, you're borrowing against the equity you've accrued in your home. If you use that cash to rack up credit card bills and get yourself further into debt, you could end up losing your home. Before opting for a cash-out refinance, weigh the pros and cons as they apply to your financial situation.
Can You Take Equity Out of Your Home without Refinancing?
If taking a cash-out refinance doesn't make sense for you, there are alternatives for accessing your equity, including home equity loans and reverse mortgages. However, there is also a relatively new option: a home equity investment. With a Hometap Investment, you're given cash in exchange for a percentage of the future value of your home, and you can use it for anything you'd like without worrying about taking on more debt. Quickly compare Hometap Investment and cash-out refinance requirements side by side below.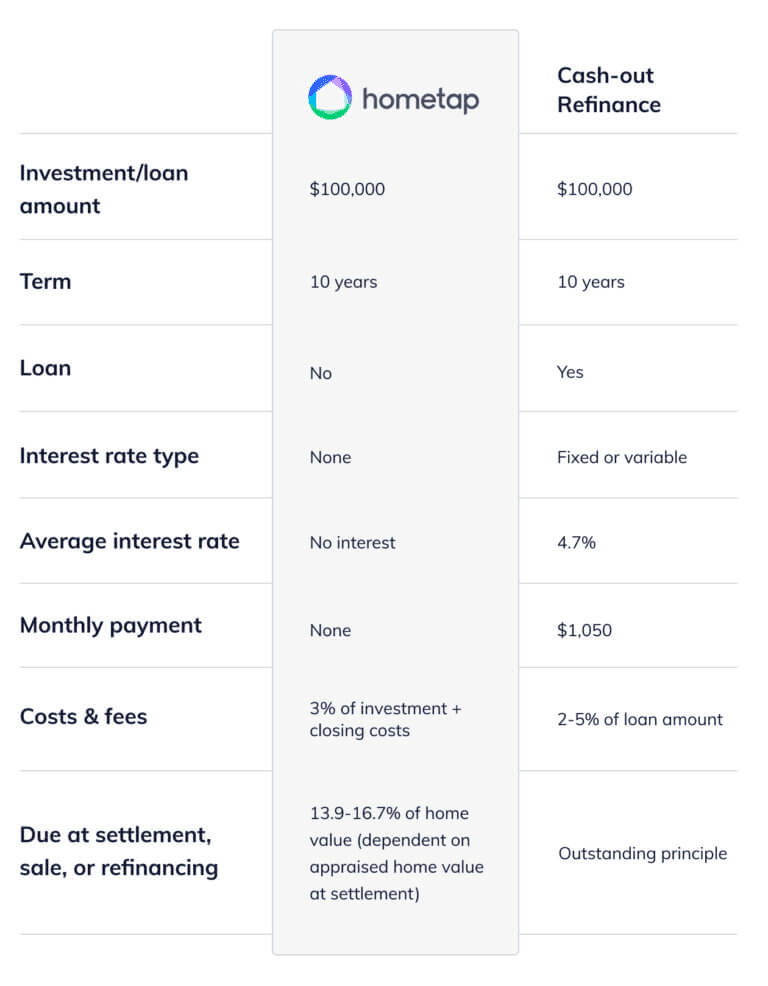 If you're looking to avoid high interest rates and additional monthly payments, taking a Hometap Investment can be a smart way to access the equity in your home to fund financial needs, such as home improvements or education, or pay off debt.
Take our 5-minute quiz to see if a home equity investment is a good fit for you.
You should know
We do our best to make sure that the information in this post is as accurate as possible as of the date it is published, but things change quickly sometimes. Hometap does not endorse or monitor any linked websites. Individual situations differ, so consult your own finance, tax or legal professional to determine what makes sense for you.
Hometap is made up of a collaborative team of underwriters, investment managers, financial analysts, and—most importantly—homeowners—in the home financing field that understand the challenges that come with owning a home.