Home Financing 101
What Trends Are Causing House Prices to Appreciate?
6 min read

You know some of the more obvious factors that tend to cause a home's value to increase or decrease: adding onto the home to turn a two bedroom into three will likely increase its value. Ignoring signs of flood damage and putting off needed maintenance will likely hurt its value. But there are less obvious factors every homeowner should know, too. By understanding what causes your home value to appreciate, you can take full advantage of one of your most valuable assets.
What Impacts Your Home's Value?
There are several factors you have little to no control over that can impact the value of your home, including time, neighborhood, state, and national trends.
Time
The good news is with regular maintenance, your home value will likely increase over the long run. Data from the United States Census Bureau shows that the average price of houses sold at the beginning of 2010 was $275,300, whereas by the third quarter of 2019 prices averaged $380,300. The average home sold for more than $100,000 more than its purchase price within the decade.
Even when taking the 2008 housing market crash into account, most homeowners saw those home values rebound beyond pre-recession levels (with the exception of a few states). The following graph from DQYDJ.com illustrates how median home prices have grown since 1953.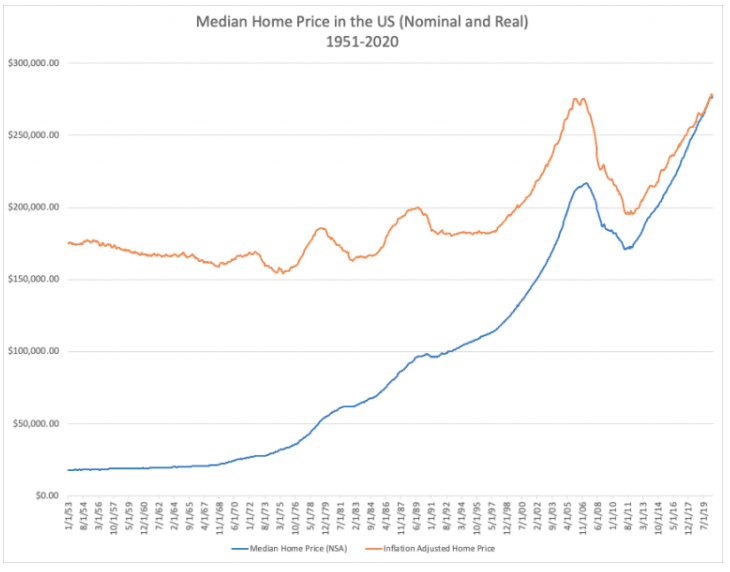 source: dqydj.com
You can find out how much your home has appreciated over time by looking at how much it has sold for over the years, how much you paid for it, and how much it is valued at now. Without hiring a professional appraiser, it's hard to know your home's value. But you can start to get a sense by looking at nearby comps, or comparable homes that have recently sold in your area.
Learn more about how to identify comps by reading How to Predict the Appraisal Value of Your Home »
Neighborhood Trends: Location, Location, Location
Beyond time, neighborhood, state, and even national trends can impact home values. Your neighborhood has the most direct impact on your home's value. When appraisers look at your home's location, they're looking not only at where it physically sits—next to a highway onramp, near public transit, on a quiet dead end street—but also what's around it. This includes school quality, job opportunities, crime statistics, and what amenities—shopping, entertainment, recreation—are nearby.
State Trends
As certain cities and states become more expensive, people begin to look to other areas. As the National Association of Realtors shows, certain states have higher job growth than others. Nevada, Utah, Arizona, Idaho, and Texas are some of the states with the strongest job growth from August 2018 to August 2019. They also happen to be the top five states in population growth by percentage between July 2018 and July 2019 according to the United States Census Bureau. The growth in population drives the demand for places to live, which of course drives up demand for homes, and home prices. 
National Trends
National trends play a part in home values at a macro level. In a sluggish economy, fewer people are looking for homes, slowing the sale of homes and, with that, slowing the rise of home prices.
Similarly, interest rates impact who can afford to buy a home. As interest rates rise, fewer people can afford to buy a home. Fewer buyers means more supply than demand, leading to lower home values.
Can You Increase Your Home's Value?
Fortunately, there are many elements of your home's value you can control. Your home's value is significantly impacted by how well you take care of it. Consistently performing basic upkeep tasks each month can help you maintain the value of your home (not to mention save you money from costly repairs).
Testing your sump pump, sealing your windows, inspecting your furnace, and patching your driveway, among other tasks, can help you keep your home in tip-top shape.
Sometimes, your home will need more substantial improvements. Home buyers, even those open to a fixer-upper, will expect solid structural elements like a sturdy foundation and roof. Some home improvement projects are proven to increase home value more than others: a new garage door has a 97% return on investment! If you have multiple projects on your to-do list, start with the projects that give you the most value for the cost.
However, it's just as important to consider small details, like a fresh coat of interior and exterior paint, and landscaping. Buyers who want a move-in ready home will be more likely to see the full value of your home if they don't have to stretch their imagination to see its potential.
How Can You Increase Your Home Value with Your Home Equity?
According to the CoreLogic Home Equity Insights report, U.S. homeowners with mortgages have seen their equity increase by 5.1% from the third quarter of 2018 to the third quarter of 2019. During that period, the average homeowner gained $5,300 in home equity. In fast-growing states like Idaho, the average homeowners' equity increased $25,800 in that same period.
For many homeowners, these numbers point to a significant opportunity. By accessing your equity—whether via a home equity loan, home equity investment, or other means—you can get the cash you need to tackle home improvement projects, including more major renovations like building an addition or refinishing a basement. These home improvements can help you get top dollar for your home when you are ready to sell or simply increase the value of one of your largest assets. Compare options for accessing your equity to see what may make sense for you and your property.
Take our 5-minute quiz to see if a home equity investment is a good fit for you.
You should know
We do our best to make sure that the information in this post is as accurate as possible as of the date it is published, but things change quickly sometimes. Hometap does not endorse or monitor any linked websites. Individual situations differ, so consult your own finance, tax or legal professional to determine what makes sense for you.
Hometap is made up of a collaborative team of underwriters, investment managers, financial analysts, and—most importantly—homeowners—in the home financing field that understand the challenges that come with owning a home.