Market Insights
Survey Shows How Costs of COVID-19 Are Weighing On Homeowners
4 min read

The unemployment rate is at its highest level since the Great Depression, leaving many people feeling the uncertainty and lasting effects of COVID-19. As reported by Forbes 2.4 million workers filed for temporary unemployment benefits just within the second week of May and 47% of adults reported that they or another person in their household has lost income since mid-March. The financial hardships are becoming increasingly apparent for working-class Americans, as well as homeowners who are paying a mortgage while supporting their families. 
The Impact on Homeowners
Mortgage payments can swallow up a large portion of homeowners' household income causing many to feel tight on cash in normal circumstances. In a 2019 report by LendingTree, data showed that in Massachusetts mortgage payments accounted for 15.0% of homeowners monthly household income and in California, it was even higher at 18.5%. With mortgage payments heavily dependent on homeowners' household income, a sudden spike in unemployment is forcing homeowners to stretch their budgets and dip into savings. 
In fact, in a March 2020 survey conducted by Kickstand exclusively for Hometap, they asked nearly 800 people—half of which have a mortgage—how the impacts of COVID-19 are affecting their stress levels when it comes to maintaining their homes and small businesses.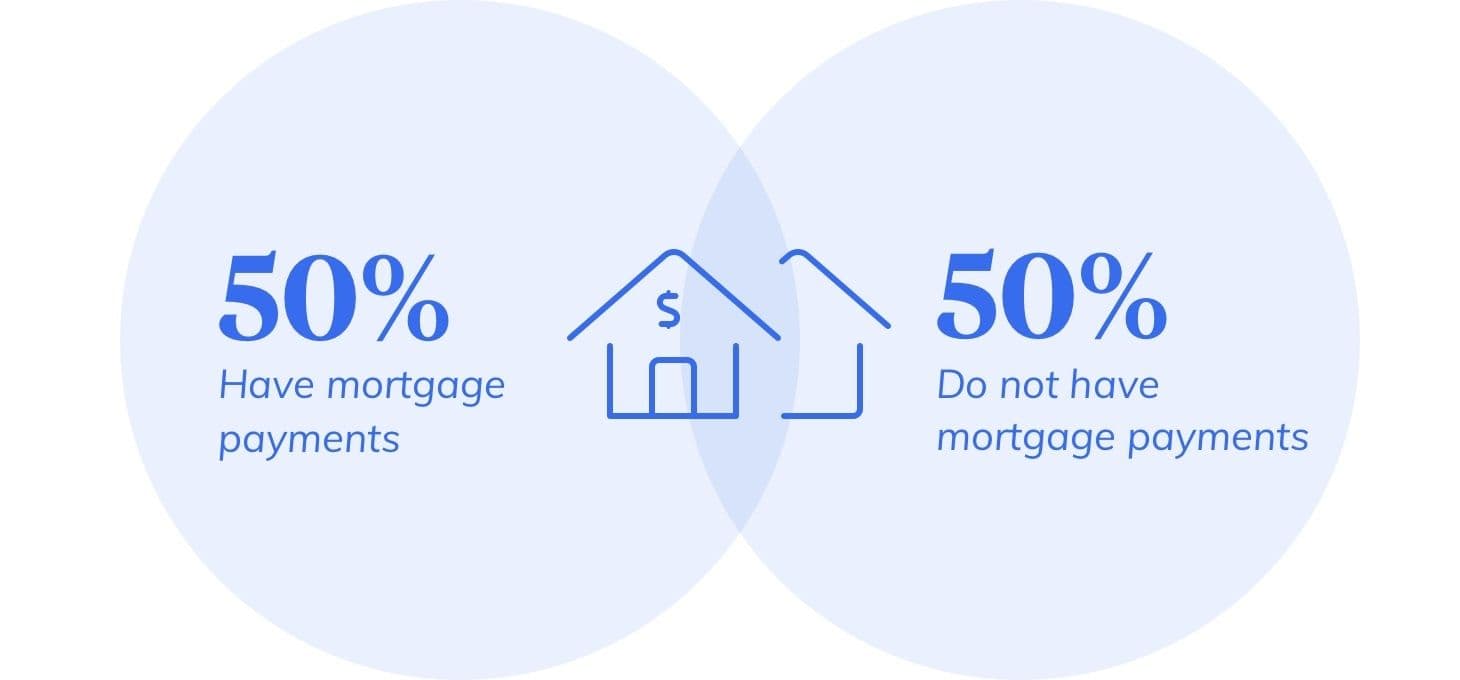 When asked, 82% of homeowners that have a mortgage said that they are moderately to extremely stressed about making mortgage payments.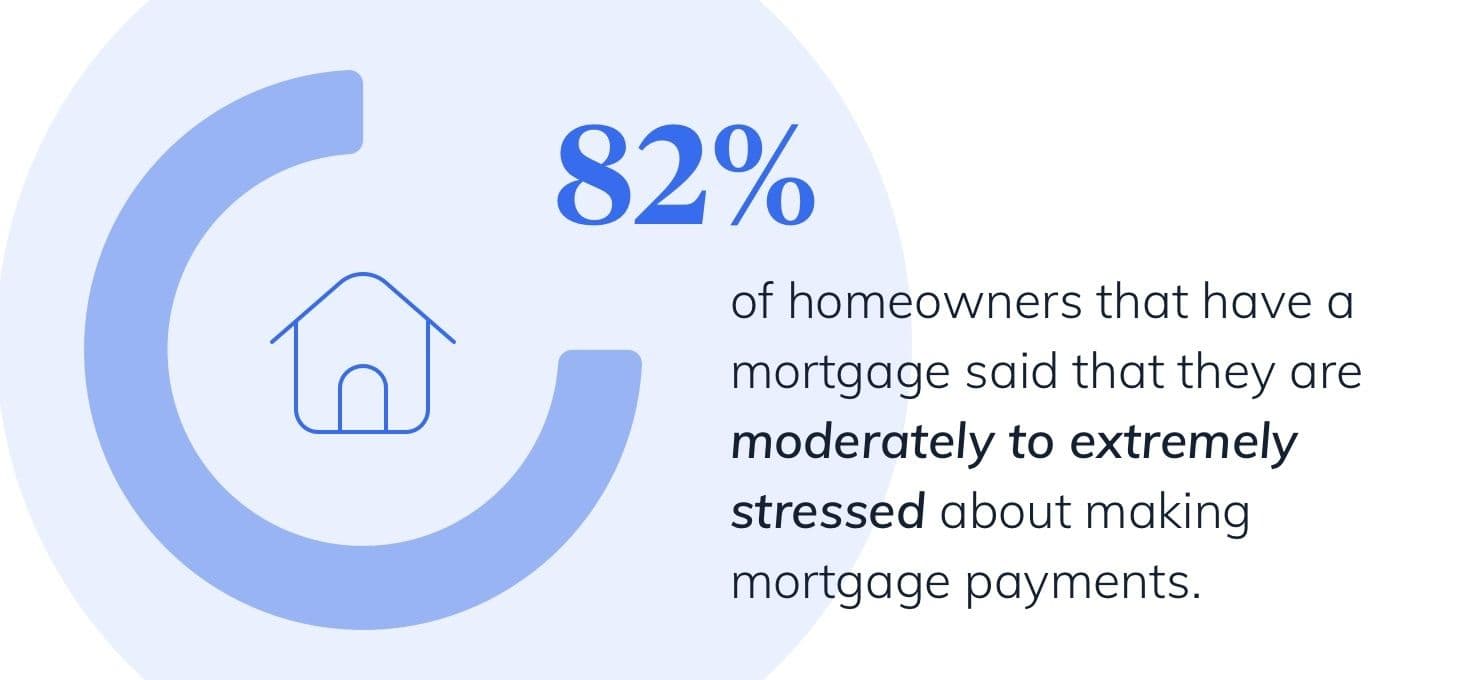 The survey found that despite maintaining employment as of March 1, 2020, many lacked confidence in their ability to stay above water when it comes to mortgage payments. 60% of those surveyed said their stress level about making monthly mortgage payments has increased because of COVID-19.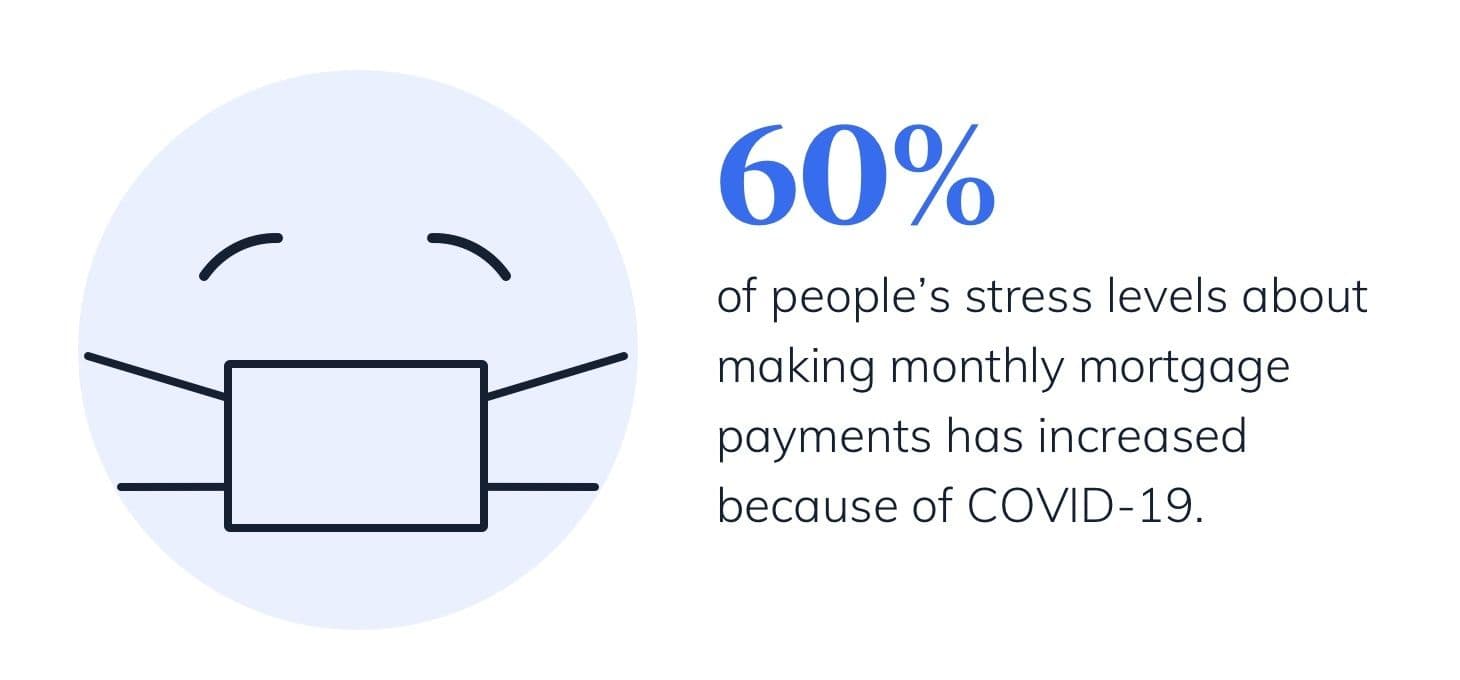 Feeling the stress, many homeowners are looking into temporarily paying their mortgage at a lower payment or pausing payments altogether, also known as forbearance. In the survey conducted, nearly 1 in 5 (18%) of people said they are in a mortgage forbearance program, and another 19% said they're somewhat or very likely to participate in one in the next six months. Recent data from the Mortgage Bankers Association shows 4.2 million mortgages are in forbearance as of May 26th, 2020.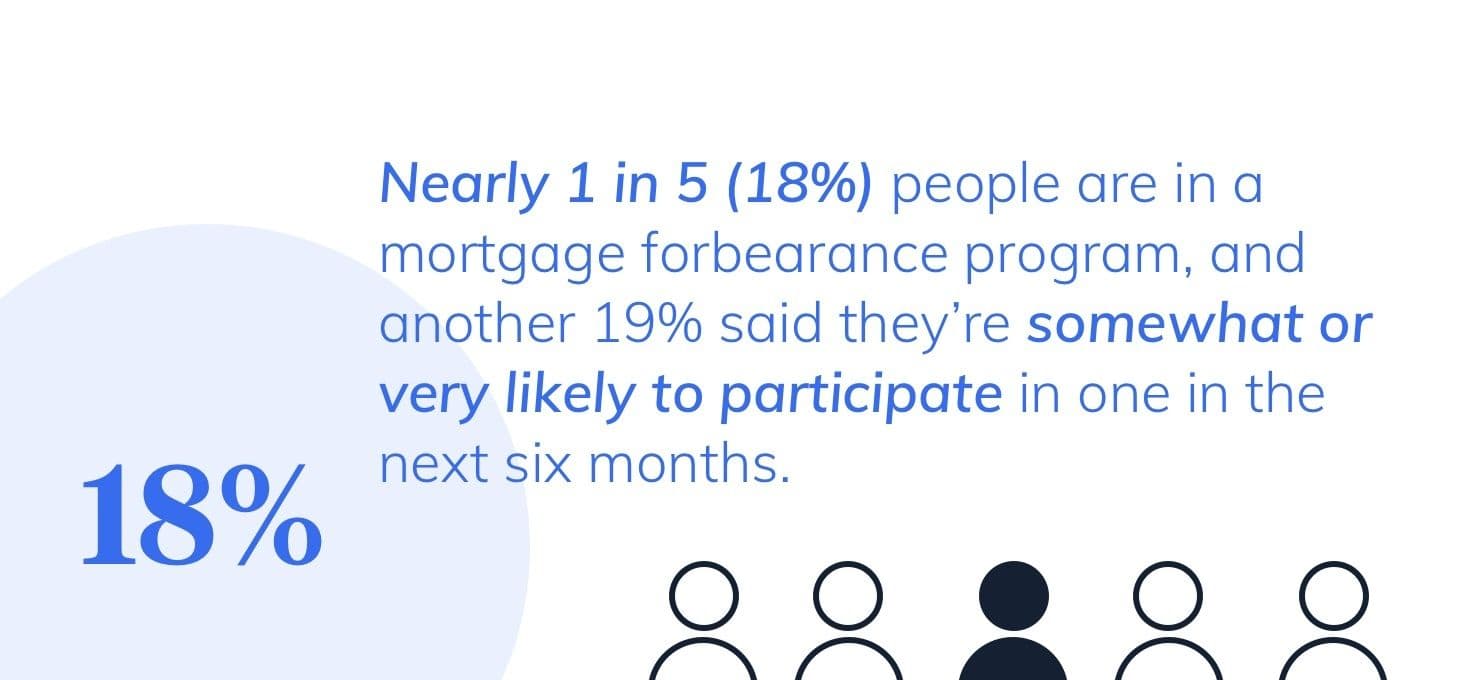 Although forbearance may be necessary, it's important to keep in mind that what is owed isn't erased and homeowners are still responsible for paying what's due later in time. 
Hometap's 2021 Homeowner Survey is out! See how homeowners nationwide are planning to recover from the pandemic.
Mortgage Options During COVID-19
Homeowners who are falling behind on mortgage payments or fear they may soon do have options. Depending on the mortgage, homeowners could qualify for the Coronavirus Aid, Relief, and Economic Security (CARES) Act, which is in place to protect homeowners with federally backed mortgages (such as FHA, VA, Fannie Mae, and Freddie Mac mortgages). Homeowners can easily follow the Consumer Financial Protection Bureau for step-by-step directions on mortgage relief options and qualifications. 
If a homeowner wants to look into other resources to help them stay afloat while making mortgage payments, alternative financing options could be available to them. A home equity investment could be another way for homeowners to get back on their feet during these difficult times. Hometap allows homeowners to tap into their home's equity without taking on additional debt or monthly payments.
Survey conducted by Kickstand Communications exclusively for Hometap. Survey conducted at 95% confidence, +/- 3% margin of error. 782 total respondents.
You should know
We do our best to make sure that the information in this post is as accurate as possible as of the date it is published, but things change quickly sometimes. Hometap does not endorse or monitor any linked websites. Individual situations differ, so consult your own finance, tax or legal professional to determine what makes sense for you.
Hometap is made up of a collaborative team of underwriters, investment managers, financial analysts, and—most importantly—homeowners—in the home financing field that understand the challenges that come with owning a home.