Market Insights
Survey: Fla. Homeowners Likely to Seek Financial Help from Family Over Lenders
4 min read

With its gorgeous beaches, year-round balmy climate, and plethora of amusement and theme parks, Florida has a little something for every kind of homeowner, and is one of the most popular places to live as a result. The average value of a home in Florida as of November 2021 was $334,882, a 25.4% jump from November 2020. The number of home closings was also up 4.3% year over year for the same time period.
The state's housing market is expected to continue heating up as we move into the new year, with a predicted price increase of 10.7% in 2022, the highest in the entire country. And of Redfin's recently-released list of the hottest neighborhoods for 2022, eight are in Florida — including Venice, South Sarasota, Downtown Fort Myers, and Weston. The list was determined by year-over-year growth in listing views, as well as a metric known as the Redfin Compete Score, which considers factors like the amount of homes that sold above their listing price and days on the market.
While there are several reasons for the growing popularity of these communities, two major drivers are retirement and the rise of remote work.
"Now that remote work is the norm for many Americans, the most popular neighborhoods are in suburbs with natural beauty and homes that are more affordable than those in major coastal cities like New York and San Francisco," explained Redfin's Chief Economist Daryl Fairweather.
Prepared for Homeownership, But Challenged By Ongoing Costs
Our recent survey of 1,000 homeowners across the country found that those in Florida felt the most prepared for the costs of homeownership beyond mortgages (such as repairs, taxes, etc.) when they bought their homes, with 89.5% reporting that they were somewhat or very prepared, compared to 83.4% nationally.

Overall, homeowners in Florida were also among the least negatively impacted financially by the COVID-19 pandemic, with just 37.2% saying that they were, versus 46.5% nationally — putting them just behind Pennsylvania.
Get your free copy of the Homeowner Report to see how insights vary from state to state.
However, those who were adversely affected by the pandemic have faced substantial challenges. The state also had the highest percentage of homeowners who were forced to suspend their mortgage or go into forbearance (5.8% versus the national average of 3.7%) as well as the highest percentage of those who had to tap into their emergency fund or seek help from family, with 12.8% compared to 8.6% nationally.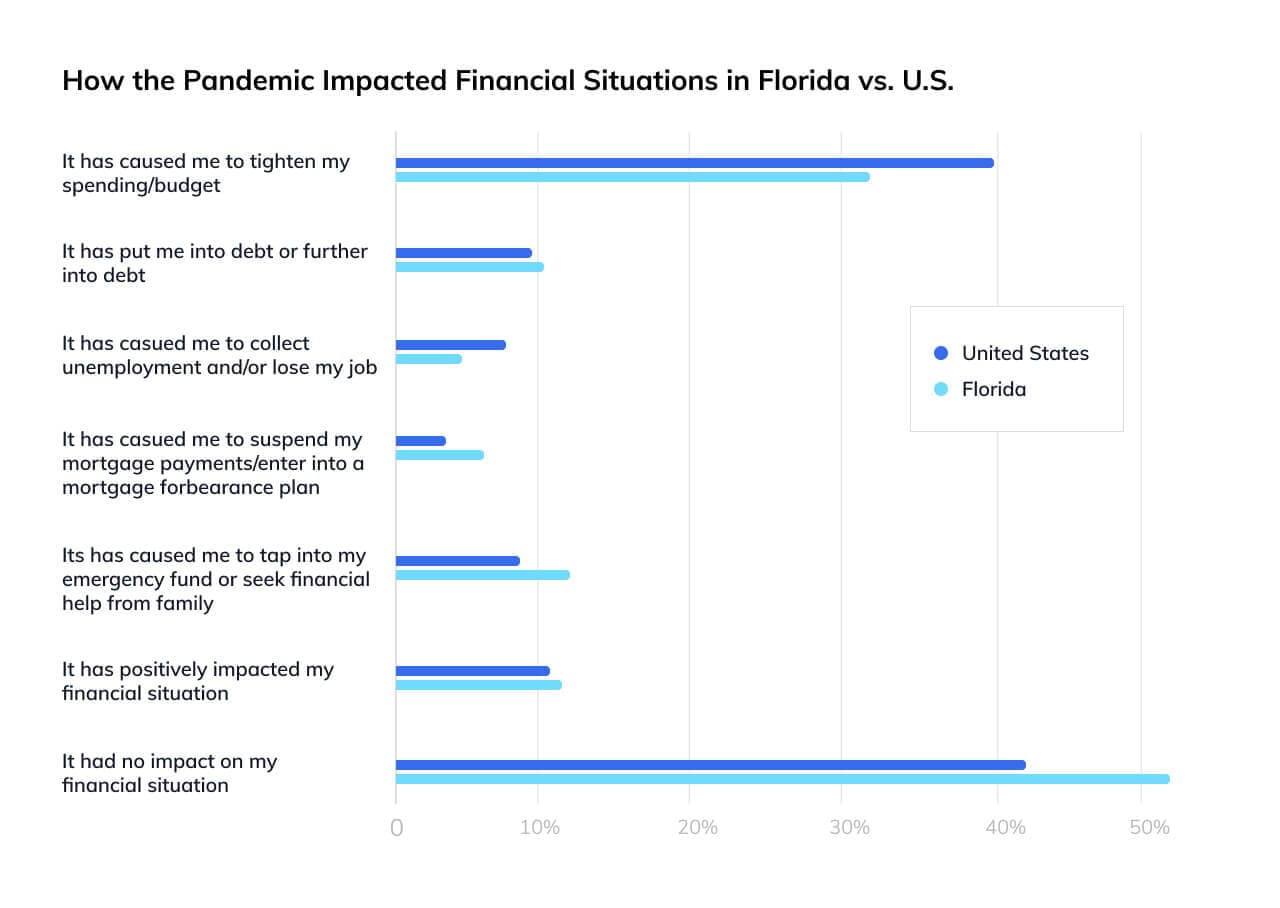 Seeking Other Funding Sources Despite Equity Awareness
With recent home value increases, Floridians are well-positioned to leverage their equity to handle expenses — and they know it. Not only are Florida homeowners the most aware of how much equity they have in their homes — 69.8% versus the 57% national average — but 59.3% also see their home as an asset they can take cash out of as needed, compared to 48.4% nationally.


Yet, while they may be savvy about their equity and how to use it, they aren't acting on this knowledge. At least, not yet. Perhaps a reflection of the previous survey finding that these homeowners are more likely to seek out other sources of financial assistance like their emergency funds or family help first, Florida also has the highest percentage of homeowners who have never applied for or considered applying for a loan/HELOC, refinance, or reverse mortgage (82.6% compared with 73.1% nationally).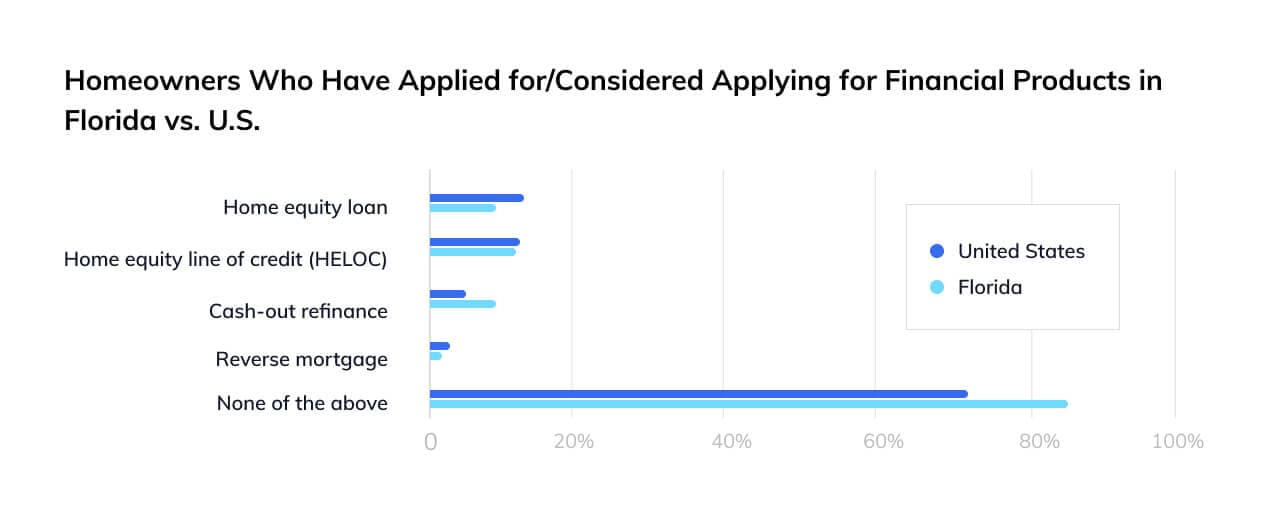 You should know
We do our best to make sure that the information in this post is as accurate as possible as of the date it is published, but things change quickly sometimes. Hometap does not endorse or monitor any linked websites. Individual situations differ, so consult your own finance, tax or legal professional to determine what makes sense for you.
Hometap is made up of a collaborative team of underwriters, investment managers, financial analysts, and—most importantly—homeowners—in the home financing field that understand the challenges that come with owning a home.