Financial Goals
Are Pool Costs Worth the Plunge? What Homeowners Should Know
6 min read

Given the growing amount of time that families are spending at home lately, it may not come as a huge surprise that data points to a recent boom in pool installations. In August of 2020, Reuters talked to a number of pool installers in Indiana; one reported that steel and composite wall orders rose by 200% in a two-month period during the spring of 2020, and another saw a 43% increase in sales from the year prior. New York's Latham Pools, an international supplier, reported 400% more sales leads than in 2019 as homeowners sought ways to have fun and be safe during the pandemic. Likewise, as pool installation requests boomed, so did the search for pool financing solutions. 
While a pool can be both a great long-term investment and a great place for you to make memories with your family, the decision shouldn't be one that's taken lightly. There are several things to keep in mind before you take the plunge, including the issue of affordability, whether you're looking for above-ground or in-ground pool financing or loans for pool installation. Learn about your options for pools, pool loans, and alternatives below.
Kinds of Swimming Pools
Before you can crunch the numbers on costs, you'll need to decide what kind of pool you want: saltwater or freshwater, above- or in-ground. Both freshwater and saltwater use the same general equipment and, despite what their names might suggest, both require chlorine. However, a saltwater pool can be more expensive to install, but its chlorine is generated through a system that breaks down salt, which is quite inexpensive. Freshwater pools require chlorine tablets or chemicals to be added to the water on a regular basis, making them pricier in the long term. So as long as you opt for an energy-efficient system for your saltwater pool, that tends to be the more economical choice.
The difference between above-ground and in-ground pool financing is a bit more clear-cut. According to HomeGuide, the average cost of an in-ground pool ranges from $28,000 to $55,000, with the typical installation coming in at $35,000. Above-ground swimming pool prices are much lower: professional installations can cost anywhere from $1,000 to $3,000, with the standard around $2,800. With the addition of a deck and stairs, the price tag can increase to $11,000. If you opt to build the pool yourself, you'll save even more; the typical kit is just $1,500. However, this approach leaves much more room for error, so it's almost always a good decision to spend the extra money on a professional who makes sure everything is hooked up correctly — and may help you avoid expensive issues down the road due to do-it-yourself mistakes.
There's also the consideration of timing. You can actually save money by having a pool installed in the fall given the reduced demand. This can be a wise move from a practical perspective as well, since the process can take up to six months to complete. If you wait to start until the spring, it may not be finished in time to enjoy it for the summer!
Additional Pool Costs
Putting in a pool will have an impact on your homeowners insurance, since it adds an extra level of liability in the event that a guest is injured. While many of the potential hazards may be covered by your existing policy, it's a good idea to inform your insurance agent in case they can increase your coverage.
Of course, needs like landscaping, fencing (required in most states), building permits, electric work for pumps and filters, and continual maintenance will add even more costs beyond the installation and insurance. HomeAdvisor estimates that you can expect basic annual upkeep to run about $1,200 to $1,800 — and that's not taking into account the additional repair and utility expenses, which can bring the total up to $3,000–$5,000. And while a pool can add value to your home, it may not be as much as you think: according to Houselogic, it adds a maximum of 7%, and not all buyers will see a pool as an advantage.
See the chart below for a quick comparison of total annual in-ground versus above-ground pool costs.
Average Pool Installation Costs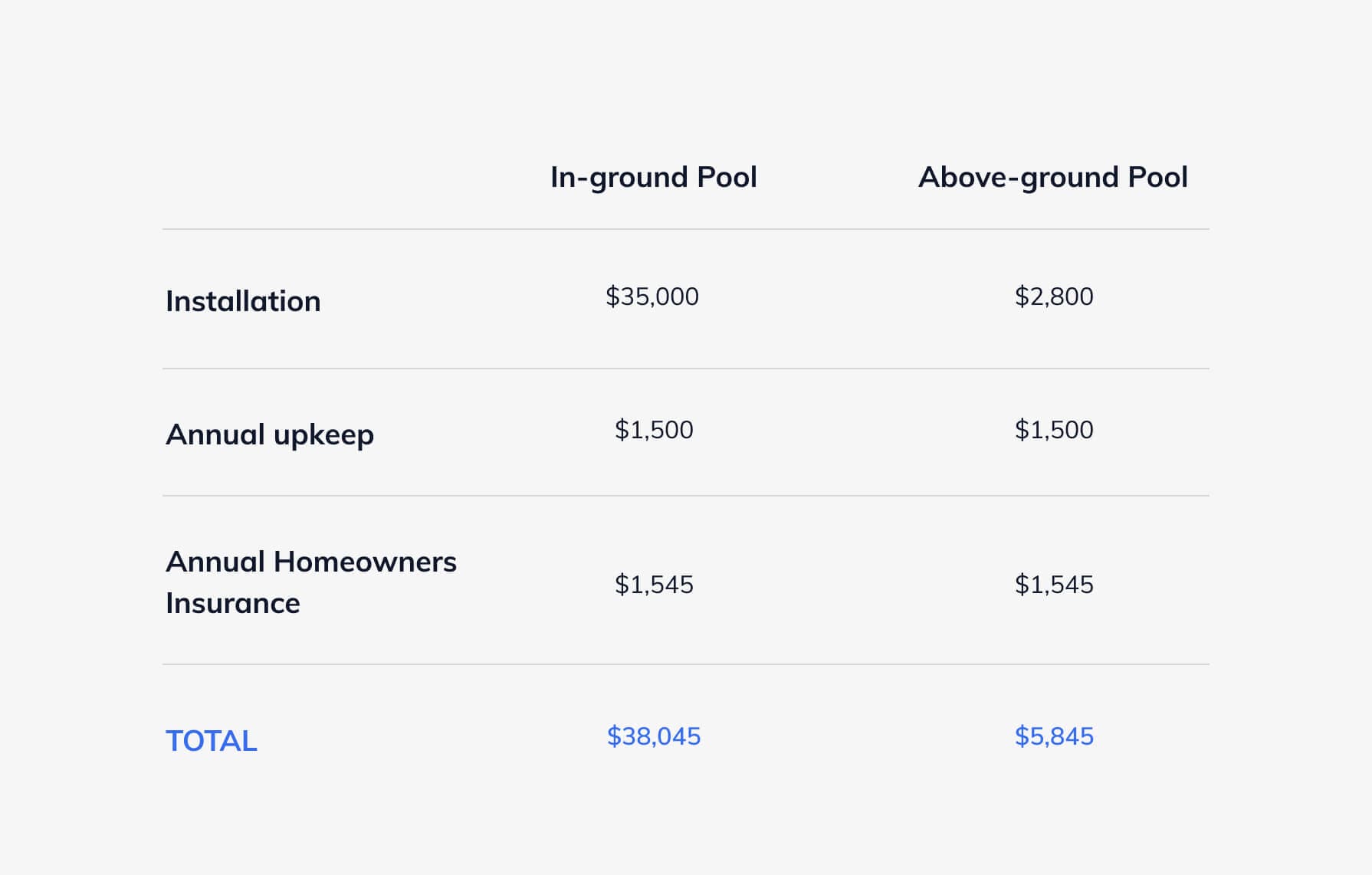 Financing a Pool Installation
There's much more to a pool installation than meets the eye, and the last thing you want is to find yourself in the financial deep end. Fortunately, when it comes to pool financing, you have options, including taking out a loan to build a pool. The most common choices for pool installation loans are personal or home equity loans, which both come with interest and monthly bills. The average pool financing rates currently vary widely depending on the lender, ranging from 6% to 36%.
And as you can see in the chart above, the higher installation cost means that you'd likely need to take out a larger loan for an in-ground pool than an above-ground one.
Or, if a home equity loan for a pool doesn't work for you, a home equity investment, like Hometap provides, could be an ideal solution. It allows you to access the cash you need now without the hassle of loans, monthly payments, or additional debt, so you can forgo the pool loan and fund your pool installation without adding more debt.
See if a Hometap Investment can help you fund the pool of your dreams.
You should know
We do our best to make sure that the information in this post is as accurate as possible as of the date it is published, but things change quickly sometimes. Hometap does not endorse or monitor any linked websites. Individual situations differ, so consult your own finance, tax or legal professional to determine what makes sense for you.
Hometap is made up of a collaborative team of underwriters, investment managers, financial analysts, and—most importantly—homeowners—in the home financing field that understand the challenges that come with owning a home.