Market Insights
Survey Suggests New York Homeowners Unlikely to Know Their Home Equity
6 min read

With its contrasting landscapes of city, suburbs, and rural areas, the New York real estate market has always been one that's a bit hard to characterize when it comes to overarching takeaways, but the past two years have revealed some clearer emerging trends.
Lingering Effects of the Pandemic
City-dwellers who fled to suburban and rural areas in search of more space in the early days of the COVID-19 pandemic drove up demand — and prices — in those regions, a phenomenon that is still evident when looking at the market there.
For example, the Syracuse and greater central New York areas are still experiencing the issue of many prospective buyers and a limited number of homes. "When buyers came into the market, they didn't have an increase of supply, so the prices just went up," Chip Hodgkins, real estate agent at Hunt Real Estate, told CNY Central. "We're having 7, 10, 14, we had 53 offers on one house. I mean you only hear about that in California, not in Syracuse," he continued.
The Manhattan market is also in the midst of a resurgence, particularly when it comes to luxury properties — in fact, 2021 saw the largest amount of luxury contracts in New York's history. "Leading up to the pandemic, the high end of the market was the weakest segment of the market. However, since the end of the lockdown, it's inverted – where the weakest segment of the market is the lower end, entry level," said Jonathan Miller, president and CEO of real estate appraisal firm Miller Samuel.
The typical value of a New York City home in September 2021 was $728,404, a 5.6% increase year over year, and a figure that's at least partially reflected in the results of Hometap's 2021 homeowner survey, which found that 26.7% of New York home values were reported to be more than $500,000. In contrast, just 12.9% of homes fell into this range across the seven states with sufficient data for analysis. However, the largest cohort of New York homeowners surveyed (33.3%) had home values between $100,001 and $249,999, with nearly as many (28.9%) reporting home values of $250,000–$499,999, in line with the national average home price of $374,900.

When it came to the impact of the pandemic, our survey revealed that the state also had the most homeowners who were positively affected (or not affected at all) by the pandemic, at 15.6% versus 10.7% nationally.
Get your copy of the report to see how American homeowners compare across regions, generations and race when it comes to home equity and home costs.
Dealing With Debt, Rising Homeownership Costs
Yet, despite this, nearly 80% of New York survey respondents are saddled with some sort of debt. Homeowners who reported having mortgage loan debt and credit card debt were nearly neck and neck (51.1% and 48.9%, respectively) with auto loan debt close behind at 35.6%. 

When it comes to homeownership costs, the highest cohort of New York homeowners surveyed (48.9%) reported spending less than 15% of their gross monthly income on their mortgage. Still, more than a quarter (26.7%) reported spending between 16% and 25% per month, suggesting that homeowners in the state are increasingly at risk of becoming house-rich and cash-poor in the future if spending continues to creep up.

New York homeowners also spend the biggest portion of their monthly income on non-mortgage costs like repairs and insurance, with 11.1% spending more than 25% versus the 3.6% of homeowners nationally who spend more than 25%. 
Knowledge of Goals and Debt…but Not Equity
Overall, New York state homeowners surveyed were at least somewhat aware of how much debt they owe, with 62.9% answering that they had a general sense and 37.1% saying that they knew down to the dollar.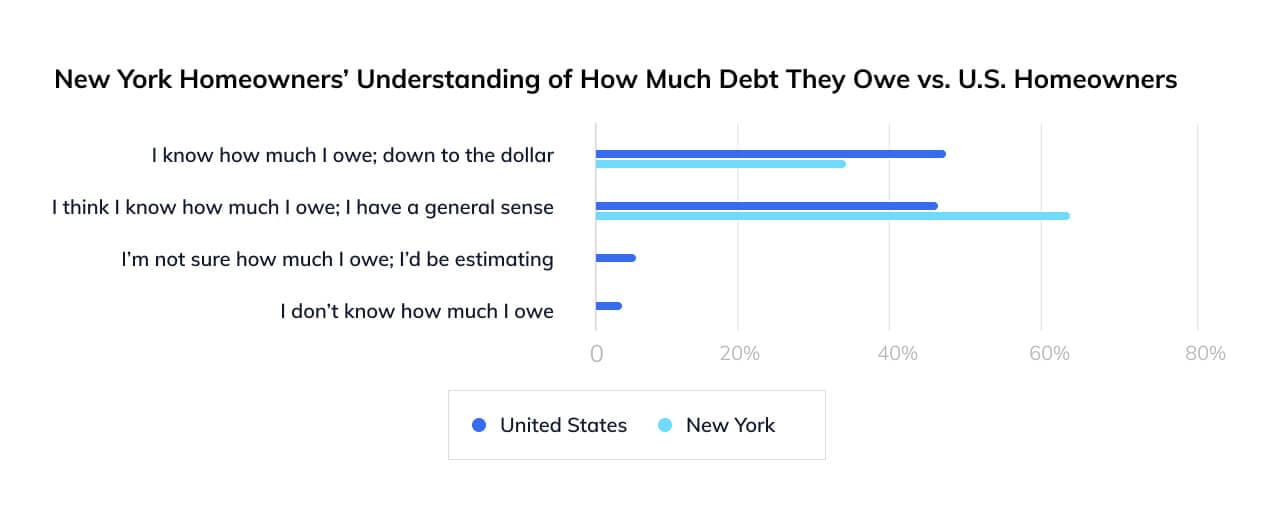 They also have a wide variety of financial goals they'd like to achieve in the coming year, but most (46.7%) are prioritizing paying off credit card debt, 40% want to grow their retirement savings, and 31.1% have their sights set on renovating their homes — the highest percentage across states with respect to this goal, and 7% more than the national average. An unusually high proportion of New York state homeowners surveyed (17.8%) are also looking to start or grow their business in the next year compared to the national average of 11.3%.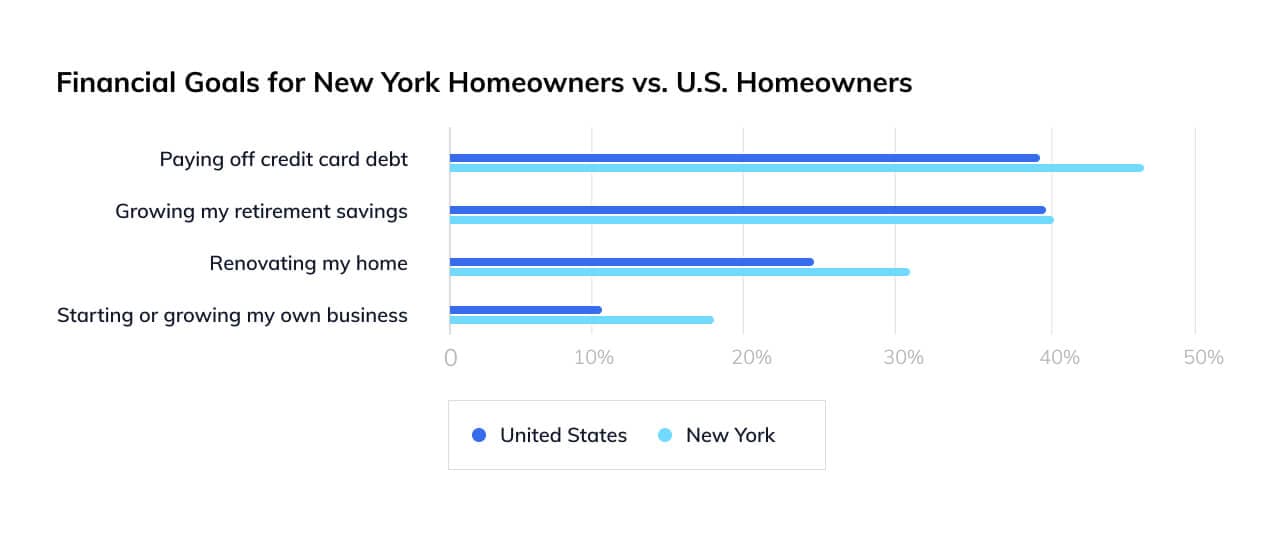 There's just one issue: A majority of those surveyed are unaware of how much cash is tied up in their home, which has the potential to help them achieve these goals. New York had the highest percentage of homeowners surveyed — 53% — who didn't know how much equity they have in their home. Of those who didn't know, a third reported that they didn't feel they needed to know. Relatedly, New York had the most homeowners surveyed who didn't consider their home to be an asset (57.8% versus 51.6% nationally).

Finally, New York represented the largest cohort of homeowners who answered that they didn't want to sell their homes or take out a loan, and 34.6% of New Yorkers (versus 24.4% nationally) believe that those are the only ways to access their equity.
You can learn more about the state of homeowner finances in our free report, Are Homeownership Costs Hindering Other Financial Goals? If you own a home in New York and you're seeking a way to make the most of its value, a Hometap Investment could be a great option. 
You should know
We do our best to make sure that the information in this post is as accurate as possible as of the date it is published, but things change quickly sometimes. Hometap does not endorse or monitor any linked websites. Individual situations differ, so consult your own finance, tax or legal professional to determine what makes sense for you.
Hometap is made up of a collaborative team of underwriters, investment managers, financial analysts, and—most importantly—homeowners—in the home financing field that understand the challenges that come with owning a home.