Market Insights
Survey: High Home Costs Make Unique Money Goals a Reach in California
5 min read

California has sun, surf, and some of the highest home values in the country — as of October 2021, the average is $722,406, a 21% increase from the same time in 2020 and an amount nearly twice the median national home price of $374,900. And costs are only continuing to climb: Sacramento was recently named the least affordable market for new homes in the country with a median cost of $650,000, and in the southern part of the state, the median sales price increased 1.3% to $688,500 from August to September 2021 alone.
A recent report also found that the top five least affordable cities in the country, where home prices are growing faster than incomes, include San Jose, San Francisco, San Diego, and Los Angeles.
While Buying Activity Is Steady, Prices Are Slowly Dropping
In the Bay Area specifically, homebuyers are still on the hunt and sales activity has remained fairly consistent throughout the pandemic in comparison to other regions. "We were really expecting, at this point, for sales to be lower," CoreLogic economist Selma Hepp told The Mercury News. "Demand is still there."
The state's reputation for high home values is also reflected strongly in the results of Hometap's recent homeowner survey. Of respondents in California, 37.3% reported home values of $750,000 or more, and 27.9% reported values of $250,000–$499,999, the largest cohort of homeowners across the seven states with sufficient data for analysis.

However, there are recent, encouraging signs of a slowdown in terms of price hikes: namely, that year-over-year price appreciation in September showed the smallest growth since January.
Homeowners Facing Debt, Financial Impact from Pandemic
The vast majority of homeowners surveyed in California (58.8%) are dealing with mortgage debt versus 53.9% nationally and nearly half (47.1%) also have credit card debt versus 45.4% nationally. California homeowners were also the most negatively impacted financially by the COVID-19 pandemic, with 58.8% versus 46.5% nationally.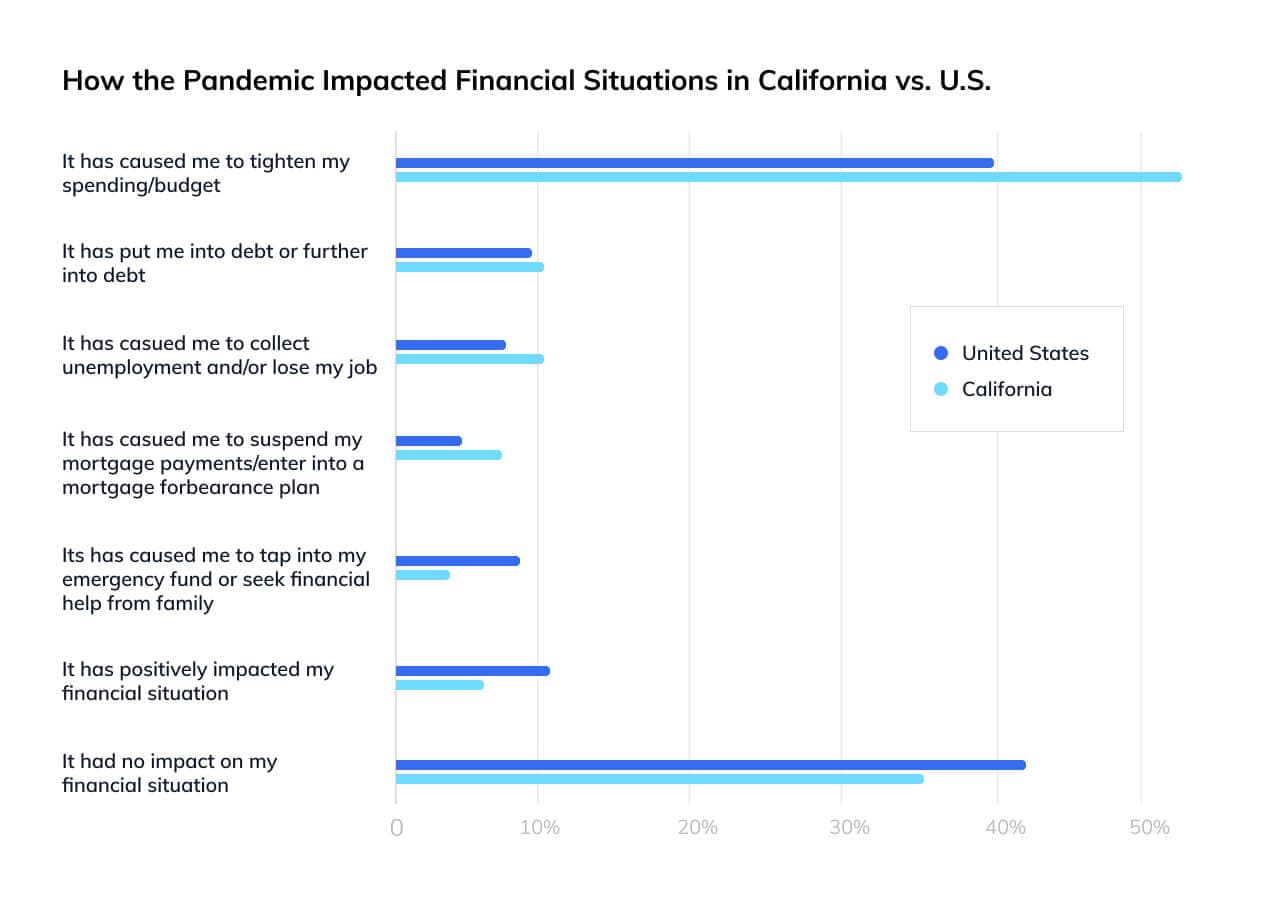 When it comes to home costs, results were a mixed bag. The highest percentage of California homeowners (44%) said that they spend less than 15% of their gross monthly income on their mortgage, but more than a quarter (26.5%) spend between 16 and 25%.
And expenses are comparably higher when looking at additional homeownership costs like home repairs and insurance: the vast majority of those surveyed in California (54.4%) spend between 6 and 15% of their gross monthly income, while 25% spend less than 5%. Combined mortgage and maintenance costs over 30% of gross monthly income can begin to spell trouble and lead homeowners to be house-rich and cash-poor.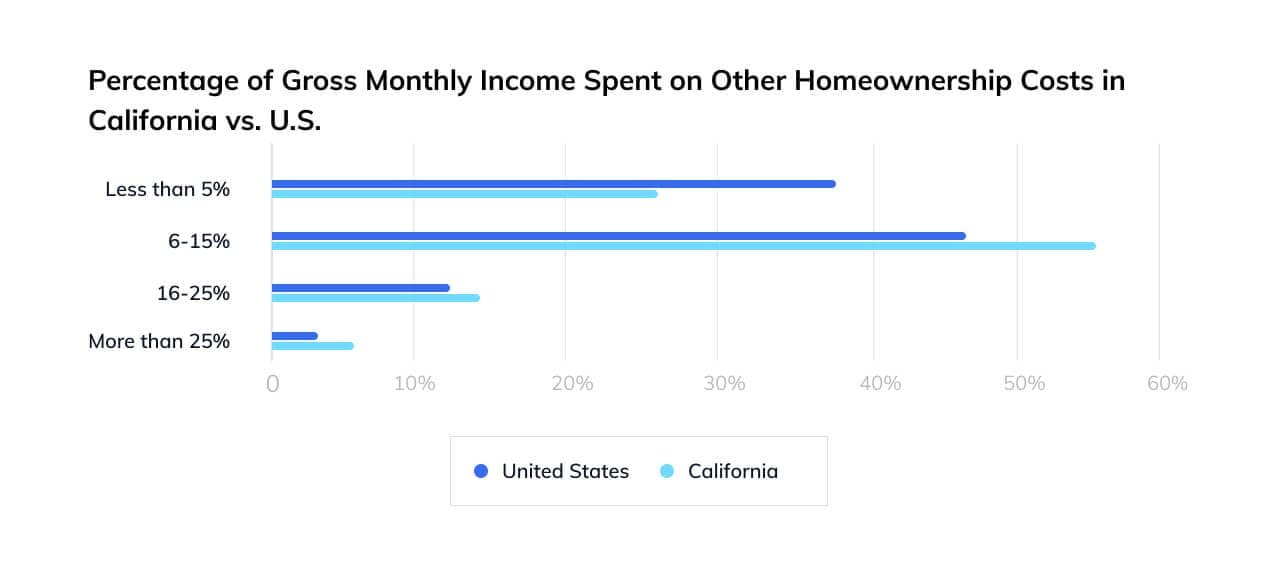 High Home Equity — and High Awareness of It
When it comes to home equity, California homeowners are very aware of how much they have in their homes, with 69.1% reporting that they knew the current amount of equity they'd built versus 57% nationally.
However, not as many realize that they can use their home equity as a source of cash. Exactly half of those surveyed in California said that they considered their home to be an asset they could take cash out of as needed, while the other half did not. Interestingly, though, homeowners in the state were the most likely homeowners surveyed to have applied or considered applying for a traditional financing option like a loan, HELOC, refinance, and reverse mortgages, with 36.8% versus 26.9% nationally.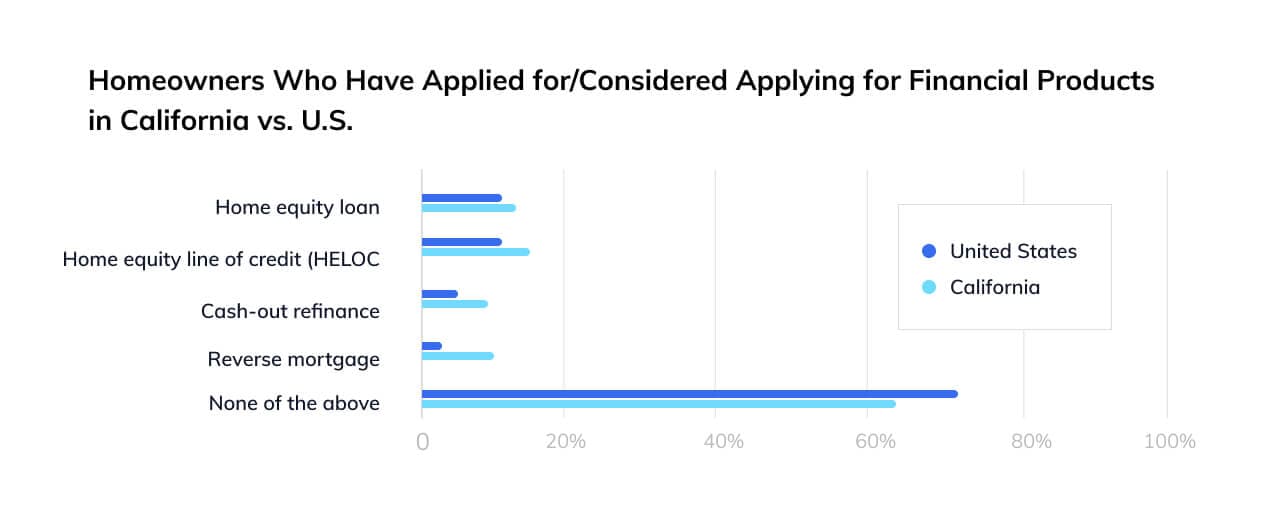 California homeowners have a combination of short- and long-term financial goals, with the highest cohort (42.6%) looking to grow their retirement savings in the next year and homeowners hoping to pay off credit card debt (41.2%) close behind. Compared to the national average of those surveyed, homeowners in the state had the largest percentage that wanted to diversify their portfolio (17.6% versus 13.3% nationally) and buy a second home (14.7% versus 4.7% nationally).
Despite significant knowledge of their equity, though, a notable portion of California homeowners remain in the dark about the fact that they may be able to leverage it — as potentially their largest asset — to chip away at debt and work toward their financial goals.
To learn more about homeowner finances in California (and elsewhere), read our free report, Is Homeownership Hindering Other Financial Goals? If you own a home in California and mounting costs are holding you back from financial freedom, a Hometap Investment might be able to help. 
You should know
We do our best to make sure that the information in this post is as accurate as possible as of the date it is published, but things change quickly sometimes. Hometap does not endorse or monitor any linked websites. Individual situations differ, so consult your own finance, tax or legal professional to determine what makes sense for you.
Hometap is made up of a collaborative team of underwriters, investment managers, financial analysts, and—most importantly—homeowners—in the home financing field that understand the challenges that come with owning a home.