Hometap Happenings
14 Questions with a Hometap Software Engineer
8 min read

Software Engineer Nishanth's story is an especially unique one: he first crossed paths with Hometap in graduate school when he took a co-op role, and then found his way back for a full-time position after he received his degree.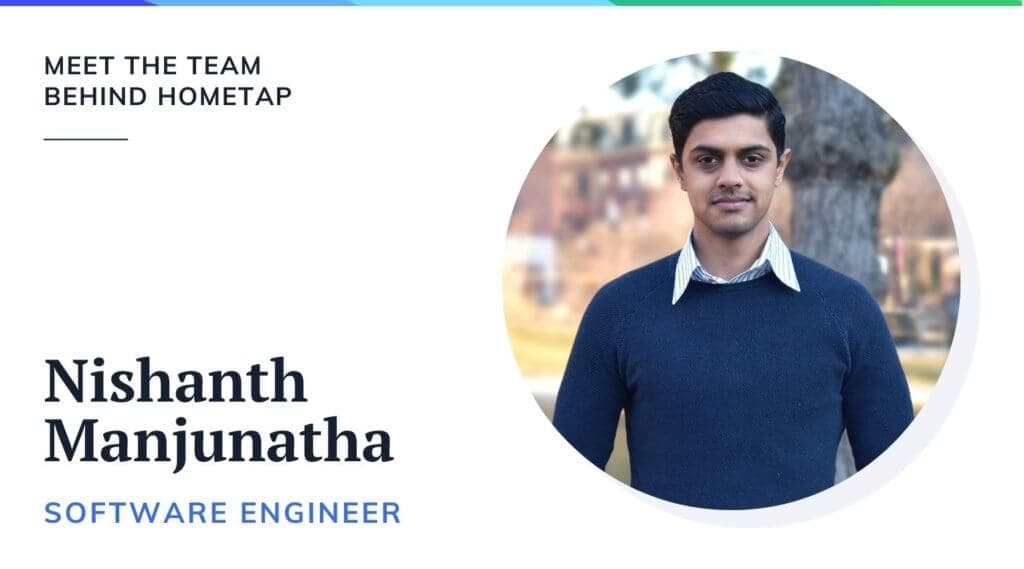 Q1: You started at Hometap as an Engineering Co-Op during graduate school at Northeastern University. How did that role compare to your current one, and what made you decide to join the Hometap team after you graduated?
Initially, when I started as a co-op, I was somewhat new to the technologies we used in our Engineering team; I had only used them prior in a classroom setting. So it was a great learning experience. I also got to learn a lot about how Hometap functions as a company and had the opportunity to interact with Design, Marketing, Product, and Sales teams. Contributing to the creation of many cool features for our website and portals was a great learning experience.
Now, as a Software Engineer, I get to concentrate more on a specific domain and have the opportunity to contribute towards and execute on bigger projects.
I really enjoyed working with the team during my co-op and also envisioned we'd have many cool and interesting features we'd need to build as we grow. I also loved the company culture and our mission, which were key factors for me to join Hometap after I graduated.
Q2: Before coming to Hometap full-time, you worked for a year in India. What was that experience like and what did you learn?
It was a great experience. This was my first job out of college, so I learned a lot of things. I feel that the most important one was how to collaborate with a team to achieve set goals. I also learned a lot about banking applications, the process, and the technologies that are used for its maintenance and its service management.
Q3: What's the biggest challenge you face as a Software Engineer?
I think the biggest challenge as a Software Engineer is striving to develop and deliver high-quality, high-performance, and secure code with no or very few bugs in the allocated timeline. As there's always rapid technology advancement, it's very important to keep oneself up to date with the most recent advances and leverage these upcoming technology trends in software development.
Q4: What's the most rewarding part of the role?
The most rewarding part of the role is seeing homeowners use the features we built, and witnessing these features help Hometap make a positive impact on homeowners' lives and achieve our goal of making homeownership less stressful and more accessible.
Q5: How do you stay apprised of the most current practices in software engineering? What are you reading, listening to, or watching?
I spend some time reading popular technology blog posts about my particular technical stack and the tools I use, and when there is a cool new technology I feel like I need to test drive, I spend some time working on a small pet project to try it out.
I also have a network of college and school friends who are also in software engineering that I stay connected to. We share information regarding all-new technologies we got to work on, along with best practices we use.
Q6: What's the best advice — engineering-related or not — that you've received during your career?
I think the best career advice I've received is to never stick to my comfort zone and to always venture outside, explore and learn new things, which is the key to growth.
Also, to always think of myself as a lifelong learner because there's always something new to learn.
Q7: Growing up, I wanted to be an …
Engineer of some kind. Growing up, I wanted to do something in the field of science. I really liked physics and mathematics-related subjects during high school and college. While exploring careers related to physics and mathematics I came across careers related to engineering. Initially I wanted to pursue a career in electronics engineering, but then I stumbled upon programming, which I really liked, and it led me to pursue a career in computer science.
AT HOMETAP
Q8: What does a typical day look like for you?
We have our engineering team roadmap, which is divided up into many epics. These epics consist of many stories and tasks, which are implemented in two-week sprints so that we can divide and conquer. On a typical day, I work on some of these stories or tasks by creating and testing software from start to finish. It also involves discussions and analysis of user requests and requirements, then research and brainstorming of practical solutions to meet those needs and determine the best course of action to create a solution.
Q9: Hometap's mission is to make homeownership less stressful and more accessible. In your opinion, how is your team helping to achieve this goal?
Currently we are working on various cool integrations and features that will improve the user interface and experience for our users. More importantly, they will help our operations team process large volumes of applications faster, which in turn will result in a faster response time for homeowners.
Q10: If you could trade jobs with anyone else at Hometap for a week, what position would it be?
It would have to be with one of our Product Managers. I would love to understand and learn more about how they identify homeowners' and internal users' needs, as well as the larger business objectives that our product or features will fulfill. I'd also love to see how they define a vision for our product and get stakeholders to align around the vision for the product.
Q11: What's one quality someone needs to be successful at Hometap?
Eagerness to learn; I feel there's always something new to learn. It is essential for success at Hometap because it allows you to really understand how each and every part of the company functions which is useful in so many ways. In terms of software development, it helps you really understand the actual need and use of the features you build.
OFFICE CULTURE
Q12: What qualities do you look for in a company's office culture?
I like a fun, collaborative environment where teammates can bounce ideas off each other to create solutions together. I also love to learn new things and improve based on feedback.
Q13: You've been with Hometap full-time for just about a year now. What's one word you would use to describe the culture here?
Connected.
Q14: What are the best and worst parts of working from home?
The best part of working from home is having the option of working from anywhere with an internet connection and not having to spend time commuting.
The worst part of working from home would be not being around the team, missing our work friendships, and also missing out on all actual face-to-face collaboration with the team and the chance to create solutions together.
We're hiring! Learn more about the opportunities on our engineering team!
Hometap is made up of a collaborative team of underwriters, investment managers, financial analysts, and—most importantly—homeowners—in the home financing field that understand the challenges that come with owning a home.