Home Financing 101
What Is a Home Warranty and Do You Need One?
10 min read

Homeowners have many decisions to make — especially when it comes to protecting and preserving their home — and one of them is whether or not to purchase a home warranty. And if it's your first home, you may be wondering, "What is a home warranty?" and even if it's different than homeowners insurance or other coverage. You're not alone, so we're here to walk you through it. A home warranty is a contract that covers the maintenance costs of certain household systems and/or appliances for an established time period. Terms can vary by company, but most plans offer coverage on an annual basis.
A home warranty differs quite a bit from homeowners insurance, though the two are often conflated and are similar in the sense that they're designed to help homeowners save money and help protect their property. Homeowners insurance, which is usually mandatory, generally safeguards against external events that can cause damage to your home — including weather-related issues, fire, or even burglary — while home warranties cover the repair or replacement of household items that may fail due to ongoing regular use. However, there are some details you should be aware of when considering home warranty companies, as one size doesn't fit all and there is a range of coverage options and providers.
What's Covered in a Home Warranty
There are different types of home warranty plans, including complete, appliance-only, and systems-only, so it can help to do a little research to find the right one for you. Ultimately, the major difference between the three is the type and amount of coverage you receive.
Complete (or combination) home warranties: These plans provide the most comprehensive coverage, as they cover both appliances and systems. For older homes that haven't been recently renovated, a combination plan can provide an added layer of protection from the issues that tend to plague aging houses. While the specifics depend on the provider, the following appliances and systems are generally included in a combination plan:
Appliances:
Refrigerator
Oven, range, and cooktop
Dishwasher
Air conditioning unit
Garbage disposal
Garage door opener
Systems:
Heating/Air conditioning (central air)
Electrical
Water heater
Interior plumbing
Ductwork
Depending on the company, you may also be able to secure home warranty coverage for optional add-ons. These can include:
Swimming pool/hot tub
Septic tank and pump
Well pump
Extended electronic warranties
Guest dwellings
Roof leaks
Pest control
Appliance-only home warranties: As the name suggests, this type of plan offers coverage for major household appliances, including refrigerators, dishwashers, washers and dryers, ovens, ranges, built-in microwaves, and garage door openers. However, this doesn't include any of your home's electrical, heating, or plumbing systems.
Systems-only home warranties: Conversely, these plans address your heating, electrical, interior plumbing, and ductwork systems, but don't include any assistance for typical appliance wear and tear. If you have an older home that's been recently updated with modern appliances but retains some older heating or electrical systems, this type of plan might be worth considering.
The Cost of a Home Warranty
The price of a home warranty varies quite significantly depending on several factors, including type, term length, your house's size and age, and your state or geographic area. States with the highest average home warranty premiums include New York, Alaska, Connecticut , and New Hampshire, while states with the lowest average premiums include Washington, California, and Florida.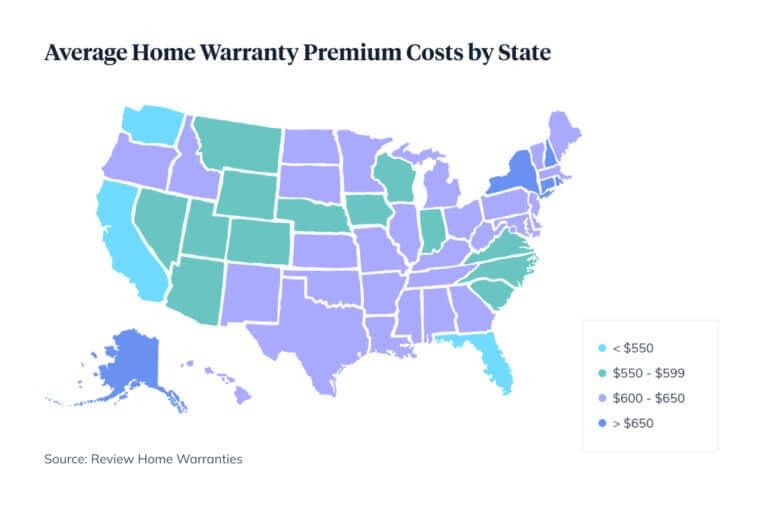 There are also various smaller costs that comprise the total cost of a home warranty plan. The typical cost breakdown includes the following:
Premium: The monthly amount you pay for your plan (the bulk of the cost).
Range: $264–$1,425, with the national average around $600
Service fee: A charge you pay each time you require a repair or replacement — or even just call a technician to your home to assess the issue.
Range: $60–$100
Coverage cap: The maximum amount of coverage your warranty company will pay for repairs and replacements.
Range: Varies widely by company, but typically $500–$1,500 per appliance or system, plus a total cap for all events within the warranty period
Cancellation fee: The charge you pay when you cancel your warranty contract before the end of the specified term. In general, you have an initial grace period of around 30 days with most home warranty companies, during which you can cancel with no penalties.
Range: Varies by company, but typically $50-$75
Many home warranty providers will also offer different tiers of their complete plans that range in coverage and provide homeowners with a few different options, so they can find one that matches their budget.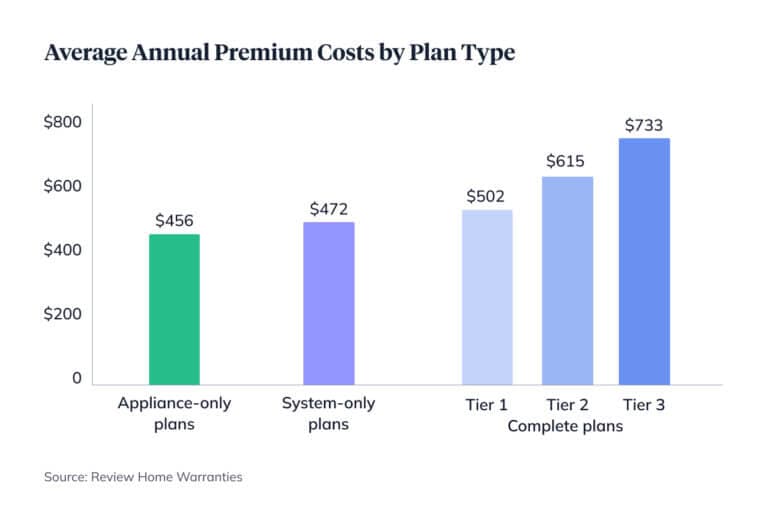 Should I Pay for a Home Warranty?
There are several different factors you'll want to consider when deciding whether or not it's worth it to purchase a home warranty. For example, the age of your home and its appliances and heating/cooling systems are perhaps the most important thing to think about; the older the home, the more likely it is to need fixes.
In addition, it may be a good idea to create rough estimates of the cost of repairs/replacements for your appliances, as they can add up on top of the cost of your warranty. Or it may just make more sense to buy a warranty when you do the math and determine that the likely fixes will cost you more money out of pocket than the price of the premium and service call.
Below are the average cost ranges and repair costs for the most common appliances:
Cooktop/Range
Cost range: $100-$430
Average repair cost: $250
Dishwasher
Cost range: $100–$300
Average repair cost: $220
Garbage Disposal
Cost range: $70–$400
Average repair cost: $250
Microwave
Cost range: $50–$400
Average repair cost: $200
Oven
Cost range: $100–$400
Average repair cost: $300
Refrigerator
Cost range: $200–$500
Average repair cost: $400
Washer/Dryer
Cost range: $100–$650
Average repair cost: $300
Frequently Asked Questions About Home Warranties
What are the cons of a home warranty?
While complete warranty plans are typically quite comprehensive, you'll want to make sure you understand the potential costs of any repairs or replacements that might not be included in your particular plan, as they can be expensive. Note that there can be stipulations regarding specific appliances that merit coverage as well — for example, only built-in microwaves are included in most warranties, and not free-standing ones. And if an appliance or system breaks because of neglect, your warranty may not cover the repair, so it pays off to stay on top of maintenance tasks.
What is a home warranty vs. homeowners insurance?
A home warranty can help handle the regular wear and tear of appliances and/or heating or cooling systems, while homeowners insurance addresses more external issues like weather or natural disasters. If you're able to afford it, having both can ensure that you have maximum protection for the majority of the "what ifs" you want to prepare for as a homeowner.
Are home warranties expensive?
The cost of a home warranty depends on the company you choose and the level of coverage you select. There are two components: the monthly premium, which is the cost to buy the warranty, and the service call fee, which the homeowner is required to pay each time they need a repair or replacement. You should also keep in mind that each company has different coverage caps — so if the cost of necessary repairs exceeds the designated amount, you'll need to pay for the rest out of pocket.
Is a home warranty worth it for an older home?
While the decision to buy a warranty is completely up to you, purchasing coverage for an older home can be a great idea, especially since aging appliances and systems can mean that they're more prone to issues that require repairs.
How do I know if I have a home warranty?
If you haven't purchased one yourself, there are a couple of different ways to find out if there is an existing home warranty for your property. The first is to find out from a previous owner whether they had one and request a copy from them. Or, if you've already closed on the home, you can contact the title company or the realtor who closed the home sale to check on the status of the warranty.
Though there are multiple factors to consider when deciding whether or not to obtain a home warranty, they can provide added peace of mind for homeowners who want to make sure they're covered if and when they experience some of the unexpected issues that come along with day to day wear and tear.
You should know
We do our best to make sure that the information in this post is as accurate as possible as of the date it is published, but things change quickly sometimes. Hometap does not endorse or monitor any linked websites. Individual situations differ, so consult your own finance, tax or legal professional to determine what makes sense for you.
Hometap is made up of a collaborative team of underwriters, investment managers, financial analysts, and—most importantly—homeowners—in the home financing field that understand the challenges that come with owning a home.