Financial Goals
Should You Go DIY or Hire a Contractor?
12 min read

Like many homeowners, we often fancy ourselves to be pretty handy around the house and yard — or if not, we're eager to learn how to make our own DIY home repairs. Watching channels like HGTV, or seeing gorgeous project inspiration from Instagram and Pinterest, can encourage any novice to pick up some tools and get to work. And in many cases, with all respect to Martha Stewart, this can be a good thing.
But as many homeowners also know, we're not always the most skilled person for a given job. And when it comes to protecting and preserving the value of our homes, sometimes it's best to call in a professional.
With home improvement projects both big and small, when should you go DIY and when should you hire a contractor? Here are three key questions to ask before you start any project:
1. Will This Update Improve the Value of Your Home?
First things first — will your planned project make your home more attractive to potential buyers or is it something that could actually diminish your resale value? You don't want to expend time and money on your home only to discover the investment won't pay off in the long run. Before you read up on how to do home repairs yourself or start comparing contractors, make sure your home improvement plans are a smart financial decision.
According to HGTV, home repairs that pay off include landscaping, bathroom and kitchen upgrades, and converting attic space to a bedroom. Projects that can decrease a home's value, however, include swimming pools, wall-to-wall carpeting, and garage additions. Think twice before installing that in-ground pool or converting your garage from one car to two. If you're planning to move in the next several years, will this upgrade help or hurt you?
2. Do You Have the Skills, Time, and Tools to Do the Job?
Years ago, after consulting a home improvement manual and some videos online, a Hometap staffer (who shall remain anonymous) decided to change his kitchen sink faucet and handles on his own. Big mistake: He drastically overestimated his skill set, misaligned his pipe fixtures, and ended up having to call a plumber for what turned out to be a significant repair. Had he simply called a plumber at the start, his bill would have been much smaller (and the project would have taken less time, too). Lesson learned!
Speaking of which, even if you don't have mishap that requires a professional fix, embarking on a project yourself will often take much longer than contracting it out, If it's your first DIY endeavor, you should be prepared for a fairly long learning curve and be willing to see the whole thing through, no matter how long it may take. Craftsman, carpenter, and HGTV personality Chip Wade suggests not moving forward with work that will take longer than two consecutive weekends to complete. "You're going to lose motivation, your craftsmanship level is going to start to fall and you're going to end up, like most people, with unfinished projects," he told the Rachael Ray Show.
Finally, there's the issue of skillset. On MarketWatch, consumer reporter Jeanette Pavini says it best: "The internet can make DIY projects look a lot easier than they are." Before you start any home improvement project, whether significant or minor, honestly and critically assess your skills and the tools you have at hand. Will you be able to competently complete the job in a way that will definitively improve your home? (If you're not sure, check out this quiz from the National Association of the Remodeling Industry.) Do you know how to use the tools required for the work? If you don't have the tools, how much will it cost you to buy or rent them? Which brings us to another financial consideration…
3. Which Is Most Cost-Effective: DIY or Hiring a Professional?
Skills and equipment aren't your only considerations when it comes to deciding whether to go DIY or to use a professional. There's also the cost, both in terms of time and money. With any project, Investopedia recommends factoring in what materials will cost you as well as the length of time the project will take to complete. Get at least two quotes from contractors, price out materials and time from a DIY perspective, then compare those numbers side by side. Which option makes more sense for your timeframe and budget?
Remember: Any home upgrades or DIY repairs should emphasize your property's current and future value as well as your pride of ownership. Be honest when assessing any home improvement project in terms of whether it's a good investment and, if so, who should actually do the work. You—and your home's future owners—will thank you.
See the decision tree below for a quick guide to choosing whether to handle things yourself or hire a contractor.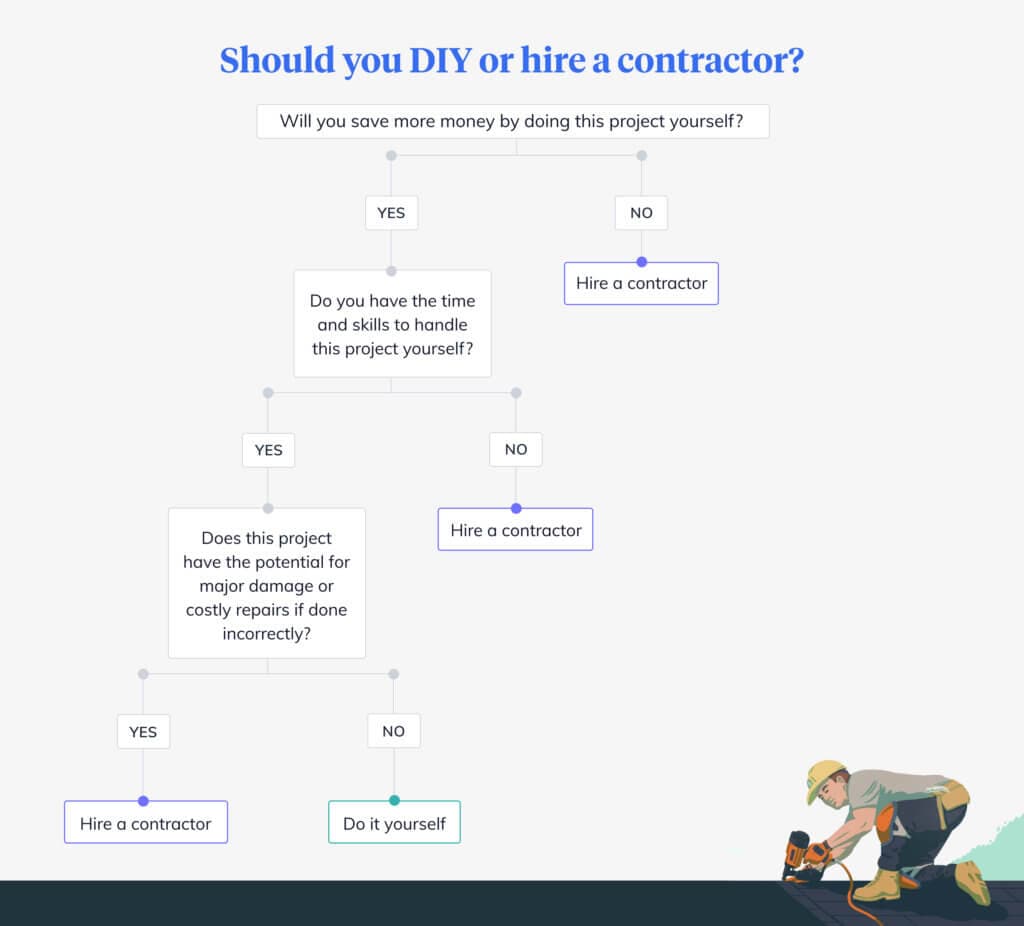 Not sure how much your project might cost? Try this renovation cost calculator to get a better idea.
If You Do Decide to DIY…Here are some things to keep in mind.
Exterior projects (siding, shutters, doors)
Consider the weather – It may seem obvious, but you'll want to plan your project for a time of year that's conducive to an extended period of outdoor work; late spring, summer, and early fall are all typically the best picks, but keep in mind that it may take longer than you expect, especially if it's your first foray into home improvements.
Strike a balance between style and function – Be wary of diving into cosmetic projects without thinking about whether or not they'll make practical sense. Sure, it might look cool, but how much will it cost to keep it that way, and does it serve a purpose beyond aesthetics? If it does, it's probably more likely to help you grow your home value.
Roofing
While it's certainly possible to handle roof repairs or replacement yourself, experts wouldn't advise it.
"I would never recommend a homeowner get on their roof, much less try to install or repair it," says Mike Holmes, professional contractor and HGTV personality. "It is too dangerous and can lead to a serious injury. Your home's roofing system is only as good as the installation and the materials used. That's why it's important to use good quality products and professional contractors."
If you do decide to go ahead with a DIY roofing project, keep the following tips in mind.
Get the proper equipment. There are several supplies that any first-time roofer needs to stock up on, including a roofing ladder, reliable boots, gloves, a belt, and a hammer.
Team up with a pro. Even if you don't plan to hire a professional to handle your roof work for you, it's wise to run your project by someone with experience to make sure your plan is sound.
Measure first. You'd be surprised at how many people jump into a roofing project without getting the lay of the land first. Make sure to get the square footage of your roof before beginning any work so you can purchase the correct amount of shingles if necessary.
Outdoor/garden projects
Consider the layout of your yard. Before you start planting, think about the size of your yard and choose an area that makes sense in terms of where you spend your time.
Calculate sun exposure. Once you've settled on a good place for your garden, make sure it will receive the right mix of sun and shade and allow your plants to thrive.
Map it out. Like any design project, you'll want to create a solid, detailed sketch for your plot so you aren't winging it when the time comes to build and plant.
Plumbing
Don't over-tighten connections. There's a well-known phrase among plumbers: "hand-tight is just right." This means that you should avoid using any tools, like wrenches, to over-tighten bolts, screws, or pipes — this rookie mistake can cause them to break or lead to damage down the road.
Locate your shut-off valves. Perhaps the most important piece of knowledge you should have before starting any home plumbing fix is the location of your main shut-off valve so you can stop the flow from any broken or burst pipes. This is usually found in your basement, utility closet, or an exterior utility wall.
Electrical
Know where your cables are. Many homeowners have learned the hard way that cables where cables are located inside their walls by accidentally drilling or nailing something into them. Invest in a cable detector to find them before you get started.
Shut off the power before you start. To keep yourself safe while doing any work near wiring, locate your fusebox and shut down the power, double checking that it's really off by trying to switch on the lights or plug in an appliance. Use battery-operated tools if possible.
Use a residual-current device. Also known by the acronym RCD, a residual-current device can actually save your life by breaking the electrical circuit if you make a mistake.
Appliance repair/installation
Consider space requirements and wattage. The first and most important factor to ponder before bringing a new appliance into your home: make sure it's going to fit and that its wattage requirements aren't going to overload your power system.
Consider the 50% rule. This one is simple: when deciding whether it's worth it to repair an appliance, look at its age — if it's more than halfway (50%) through its lifespan, it probably makes more sense to replace it than repair it.
Invest in a multimeter. Every home handyperson should have a multimeter, also known as a volt-ohm meter, which is a handheld device that measures electrical voltage, current, and more.
Check the appliance error codes. You might just luck out and find out that your appliance issue has a simple fix you can handle yourself by looking up the error code that it displays. While these can be found in the instruction manual that came with your appliance, many are now listed online if you've misplaced it.
Reconfiguring rooms/taking out walls, etc.
Look inside the wall. Check to make sure there aren't any electrical outlets, piping, or ventilation in your wall before knocking it down — if any of these elements are present, it is probably worth your while to outsource the work to a professional.
Plan ahead for cleanup. Often, curbside trash pickup will not remove construction debris, so you may need to consider alternate options. Many homeowners rent a dumpster in advance of wall removal.
Flooring
Think about the flooring type. Not all flooring is created equal, so it's important to consider what type you're using before getting started: laminate, vinyl, hardwood, tile? Each one requires a different set of tools, approach, and process.
Give yourself time to learn. One big advantage of using a professional for floor installation is that it will likely be completed more quickly than trying to handle it yourself, especially if it's your first attempt. Of course, it might be a fun challenge if you have free time to figure it out!
Take our 5-minute quiz to see if a home equity investment is a good fit for you.
You should know
We do our best to make sure that the information in this post is as accurate as possible as of the date it is published, but things change quickly sometimes. Hometap does not endorse or monitor any linked websites. Individual situations differ, so consult your own finance, tax or legal professional to determine what makes sense for you.
Hometap is made up of a collaborative team of underwriters, investment managers, financial analysts, and—most importantly—homeowners—in the home financing field that understand the challenges that come with owning a home.