Hometap Happenings
10 Questions with Hometap's Director of Originations
5 min read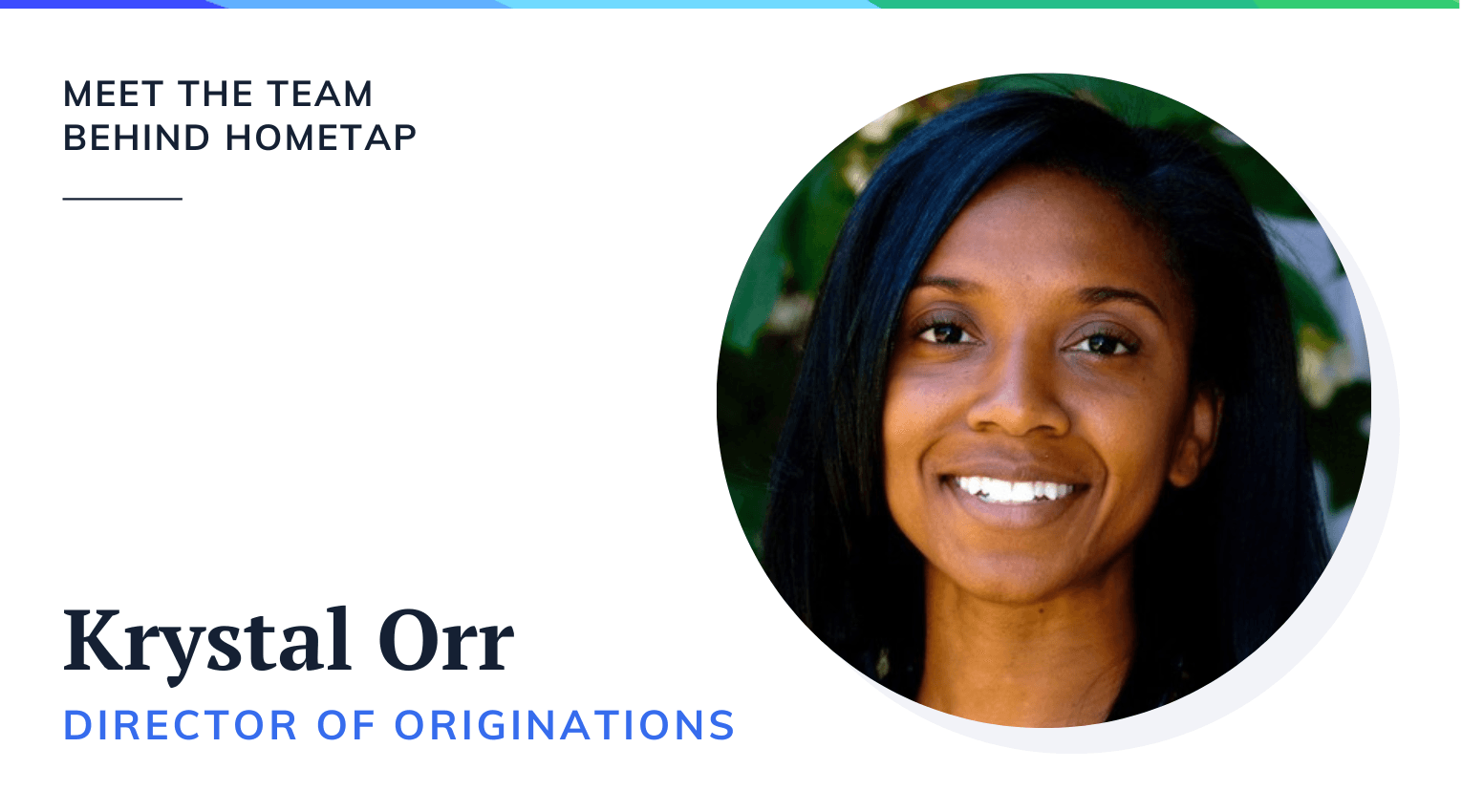 As Hometap's Director of Originations, Krystal oversees multiple teams and leads them through the processes of reviewing Applications, underwriting Investments, and arranging signing and funding.
Q1: What's the biggest challenge you face as Director of Originations?
I like to think of challenges as opportunities rather than obstacles. One of the challenges I face in my role as Director of Originations is providing a constant state of stability while implementing frequent change. Change is good and necessary for growth. Nevertheless, the impact of any one change can be very different for each of the units I oversee. So, I must be mindful in preparing each for our evolution as we move forward.
Q2: What's the most rewarding part of the role?
The most rewarding part of my role is twofold. First, witnessing the growth and development of my team — empowering them to stretch and develop more confidence and ownership of their roles. Second, learning from my team and my peers — I learn something new each day. We are truly an ecosystem in that each of us contributes and we can all learn from one another.
Q3: How do you stay apprised of the most current news in the industry? What are you reading, listening to, or watching?
I try to stay plugged in without being consumed by industry news. I'm a fan of podcasts. I have a playlist filled with business, fintech, and financial industry favorites. Frequently, I will hear a topic being discussed and dig in to find more articles or information on the topic for a deeper dive.
Q4: What's the best advice that you've received during your career?
"It's better to teach than be the single source of truth." I think this is particularly important in leadership positions. Helping your team gain a common understanding arms them with the ability to confidently advance in their roles.
AT HOMETAP
Q5: What led you to Hometap and appealed to you about your initial role here and the company?
I was initially drawn to Hometap because of its unique product offering. It was an interesting concept that stood out in the field. My role was particularly exciting to me because it was an opportunity to assist in developing structure at a critical phase of the company's evolution.
Q6: What's something you wish members of other teams within Hometap understood about your role or the work that you do specifically?
Originations is frequently thought of as "Ops" in general. However, it is made up of three unique units, all of which have specific functions and needs. I oversee different teams who process Applications, underwrite files, and handle our signing and funding.
Q7: If you could trade jobs with anyone else at Hometap for a week, what position would it be?
There are so many roles that are interesting here at Hometap. It is hard to choose just one. However, I think I would choose the Director of Sales. I chose this because we frequently work together and collaborate on efficiencies between our two departments. We have an amazing relationship and have made strides in developing a "one team, one dream" mentality. I think switching roles for a week could give us great insight in furthering our objectives.
Q8: What's one quality someone needs to be successful at Hometap?
Adaptability. The ability to be agile to change.
OFFICE CULTURE
Q9: What qualities do you look for in a company's office culture?
I look for a company office culture that is open and accessible. That is not a reference to a building structure or access. That is a reference to the people. An environment that is warm and welcoming. An atmosphere that is comfortable to meld into.
Q10: What are the best and worst parts of working from home?
The best part of working from home is the time you can pour back into focusing on your work and your life rather than commuting back and forth. The downside is the loss of that day-to-day in person collaboration. However, Hometap has a culture that translates through the virtual landscape. We have access to office space when we want to work together and/or meet in person. There are also several company-wide in person opportunities.
You should know
We do our best to make sure that the information in this post is as accurate as possible as of the date it is published, but things change quickly sometimes. Hometap does not endorse or monitor any linked websites. Individual situations differ, so consult your own finance, tax or legal professional to determine what makes sense for you.
Hometap is made up of a collaborative team of underwriters, investment managers, financial analysts, and—most importantly—homeowners—in the home financing field that understand the challenges that come with owning a home.