Home Financing 101
What Is Homeowners Insurance and What Does It Do?
7 min read

Much like its name suggests, homeowners insurance is a form of insurance that protects one's property from various adverse events. While specifics vary by policy, most coverage addresses interior and exterior damage, personal asset loss or damage, and injury that occurs on a property.
Homeowners Insurance vs. Home Warranty
The biggest difference between homeowners insurance and a home warranty is that the former covers damage caused by forces of nature (like fire or wind), while a home warranty guarantees the replacement of parts or entire appliances or home systems that malfunction or stop working.
Homeowners insurance is more comprehensive and encompasses a wider range of incidents, and a home warranty is not an adequate replacement for homeowners insurance.
As Art Chartrand, executive director and counsel for the National Home Service Contract Association, explains, "Home warranties are contracts of inclusion, while homeowners insurance [policies] are contracts of exclusion."
How to Choose the Right Homeowners Insurance
Traditional homeowners insurance plans fall into one of eight buckets that range from HO-1 to HO-8 policies, each offering a different level and/or type of coverage.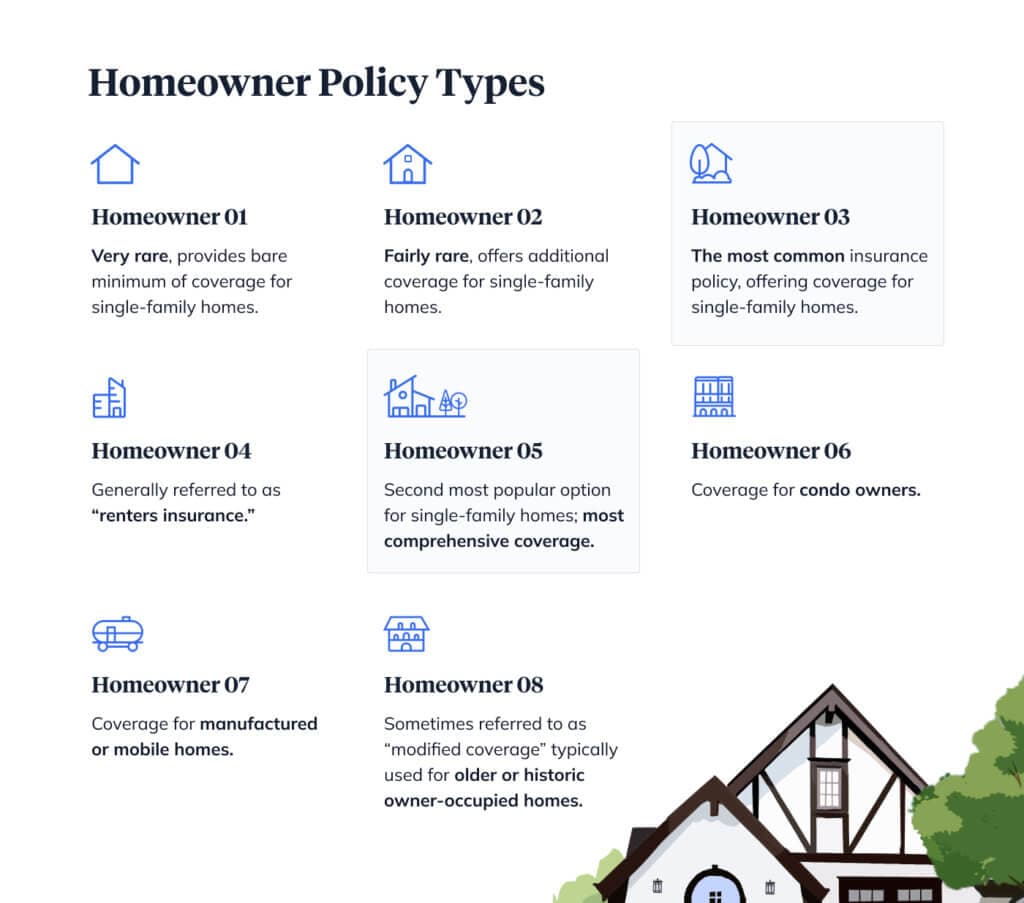 HO-1: While this policy still exists, it's very rare, as it provides the bare minimum of coverage for single-family homes.
HO-2: A slightly more common policy than HO-1 that offers additional coverage, though still not very widely used.
HO-3: Now the most common insurance policy, offering coverage for single-family homes. 
HO-4: The HO-4 policy type specifically covers renters rather than homeowners, and is generally referred to as "renters insurance."
HO-5: This policy provides the most comprehensive coverage and is the second most popular option for single-family homeowners behind the HO-3 policy. 
HO-6: A policy type specifically for condo owners. 
HO-7: HO-7 policies provide coverage for manufactured or mobile homes. 
HO-8: Also sometimes referred to as the "modified coverage form," the HO-8 policy type is typically used for older or historic owner-occupied homes. 
The difference between HO-3 and HO-5 homeowners insurance policies comes down to how they handle personal property. The former only covers said property if the damage done is caused by something included within the policy. And if, for example, furniture is the damaged property in question, an HO-3 policy will likely only cover its cash value (accounting for depreciation), and not the cost of replacing it.
An HO-5 homeowners policy covers all damage to personal property except for damages excluded from the policy, and it covers the cost of replacing the damaged property.
Once you determine the appropriate policy type, you'll also want to make sure its reimbursement type makes sense for you. There are typically two arrangements: a cash value policy that repays you in cash for the actual value of items lost, stolen, or damaged (with depreciation accounted for), or a replacement cost policy, which repays you an amount consistent with what it would cost to repair damaged items or buy new ones to replace those lost — usually this is higher than the cash value rate.
How Much Homeowners Insurance Do I Need?
The amount of coverage all depends on your particular personal situation and home, but you should purchase enough coverage to cover all of your belongings in the event that they're destroyed. As mentioned above, most policies provide a minimum of $100,000 in coverage and protect your property in the cases of lightning, fire, hail, or explosions. However, if you live in an area that may experience other natural disasters like earthquakes or floods, you'll need to purchase additional coverage as well.
If you're deciding between HO-3 and HO-5, it should come down to the value of your personal property. If you have a lot of expensive belongings like electronics or high-end furniture that you want covered in case of an event like theft or smoke damage, it may be worth considering an HO-5 policy.
Branch suggests speaking with an insurance professional to determine the right amount of insurance coverage for your needs and budget.
How to Save on Homeowners Insurance Costs
There are several different ways to save on homeowners insurance, so it's worth spending some time exploring options and checking out discounts to see if you can slice a few bucks off of your annual premium.
Shop around: While you want to make sure you're not cutting corners and getting sufficient coverage, it can pay off — literally — to do your homework in terms of providers. Experts recommend getting quotes from at least three different companies.
Raise your deductible: Increasing the amount that you pay when you file an insurance claim can actually save you money on an annual basis, so it can be a calculated risk worth taking. Of course, this means you need to meet that deductible before insurance kicks in when an issue does arise.
Bundle your home and car insurance: If you're already paying for an auto insurance policy, you can often get a discount by packaging it with homeowners insurance through the same provider. 
Add security features to your home: It might not be the first thing you think of, but simple additions like a smoke detector, deadbolt locks, or an intruder alarm can help to reduce your premium.
Consider eliminating "high-risk" items: Some home leisure purchases, like trampolines, playgrounds, or pools, can raise your insurance premium due to the risk of injury they present. If you or your kids can't live without them, it may be worth paying a bit more — but it's certainly something to consider if you are looking for ways to cut costs. 
Do a review of your coverage every year: As your needs change over the years, you may find that you're paying too much for your policy when you compare your premium to that of competitors, or that you can downgrade to a lower amount of coverage to better fit your specific situation.
Ultimately — like many home-related things — finding the ideal homeowners insurance policy comes down to your own priorities and values, but with a bit of research, you can confidently select the right one for you.
You should know
We do our best to make sure that the information in this post is as accurate as possible as of the date it is published, but things change quickly sometimes. Hometap does not endorse or monitor any linked websites. Individual situations differ, so consult your own finance, tax or legal professional to determine what makes sense for you.
Hometap is made up of a collaborative team of underwriters, investment managers, financial analysts, and—most importantly—homeowners—in the home financing field that understand the challenges that come with owning a home.